Main content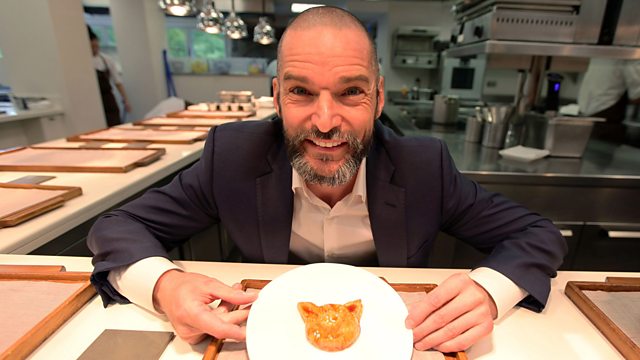 Nisha Katona takes Fred to San Sebastian for a mind-blowing meal at one of the world's top restaurants and to visit a tiny sports bar to learn the secrets of the perfect tortilla.
Fred's guide in this week's episode is restaurateur Nisha Katona. Nisha gave up a career as a barrister to set up Mowgli, a restaurant chain serving Indian street food. She wants to take Fred to San Sebastian in northern Spain's Basque country, a place she believes shares a lot with her own food culture – passion for local ingredients and a fierce pride in their rich food heritage.
The first place in Nisha's little black book is Mugaritz, ranked 9th best restaurant in the world and famous for wild experimentation - something that is made clear as soon as the menus arrive. Instead of a list of dishes to select, the Mugaritz menu is two pictures, one of a swimming fish, one of a flying fish. Nisha and Fred make their choice, but have little clue what they are going to eat. Seated at their table inside, there are still few clues as to the meal ahead - the table is completely empty of cutlery and tableware. It is clear that eating here is designed to be an adventure.
They might not know exactly what they are going to eat, but the restaurant serves a 200-course tasting menu that costs nearly £200 a head, but it is not the price that has proved controversial with diners, some of whom love the experience while others don't get it at all - it is the challenging and extraordinary food. Fred and Nisha are astonished when they are served two corks on a plate, and struggle to know if they are really meant to eat it. The 'cork' is in fact a cylinder of freeze-dried chicken liver pate served with a reduced hundred-year-old wine. As Fred bites in, his brain tells him it is a rotten cork, but the flavour is incredible.
Every dish that arrives is playful, provocative and extraordinary, from the steak tartare served with a blanket of specially cultured mould to the crispy chicken skin formed into the shape of a little pig's face and filled with a chorizo-flavoured foam. Nisha and Fred can't imagine the level of creativity that has gone into devising these dishes or the level of effort in the kitchen required to deliver them.
Visiting the kitchen next day, Fred and Nisha are astonished to see that there is a 40-strong team, today under the command of 28-year-old head chef Maria Fernanda. Discipline and organisation are essential for the team to produce a staggering 1,300 dishes each service, and Fred and Nisha join 19 chefs shelling peas to produce just one of the elaborate creations.
Fred and Nisha return later to meet the creative mind behind Mugaritz, but before then Nisha wants Fred to experience a food treat right at the opposite end of the price spectrum – a €2.00 slice of tortilla. Cooked and served by Nestor in his simple sports bar, the tortilla is said to be the best in the world, but getting your hands on it is tricky. Nestor makes just two tortillas a day, and if you want a slice you have to pop into the bar before midday to get your name down on his list. Fred and Nisha join him in his tiny kitchen and are delighted to learn the secrets of his unique cooking technique, though not as delighted as when they finally get to taste it, served with a hunk of bread and a glass of traditional Basque wine. Simple and utterly enjoyable.
Simplicity is not the Mugaritz way, as the Fred and Nisha learn while foraging for 16 different spring flowers for one of the restaurant's dishes, an extraordinary creation made with crisps of local sheep's milk. At last Fred and Nisha meet the man whose incredible creativity is at the heart of Mugaritz – executive chef and owner Andoni Luis Aduriz. His mission is to break the boundaries of how we eat. He is unfussed that some diners don't enjoy their time at Mugaritz, and believes the best food is on the borderline of genius and disaster. Fred and Nisha agree that a meal here is an unforgettable experience.
Nisha's final choice is a place that shares Andoni's passion and commitment, but where the team is dedicated to serving just one dish – steak. Casa Julian is a family run steakhouse in Tolsa, just 30 minutes inland from San Sebastian. Established in 1954 by Julian, it was sold to his friend Matias on the promise that he would keep it exactly as Julian left it. Now Matias's two sons Xabi and Inaki have joined the business and are just as exacting as their dad in pursuit of the perfect steak. They serve only the Basque txuleton steak, a gigantic rib cut served on the bone. The steaks are sourced from aged and fattened dairy cows, and butchered into cuts of the perfect thickness in the restaurant. The steaks are grilled on a unique inclined grill to keep the juices in, while slow cooking over flame ensures the fat inside renders to deliver soft, melt-in-the-mouth meat. The proof is in the eating, and Fred and Nisha both agree it is the best steak they have ever tasted. It sums up everything they have both loved about everywhere they have eaten San Sebastian, the passion of the chefs and their quest for perfection.
More episodes
Next
You are at the last episode
Music Played
Timings (where shown) are from the start of the programme in hours and minutes
Credits
| Role | Contributor |
| --- | --- |
| Presenter | Fred Sirieix |
| Presenter | Nisha Katona |
| Production Company | Outline Productions Ltd |
| Series Producer | Katy Fryer |
| Executive Producer | Helen Veale |
| Production Manager | Clare Crossley |
| Producer | Edward St Giles |