Main content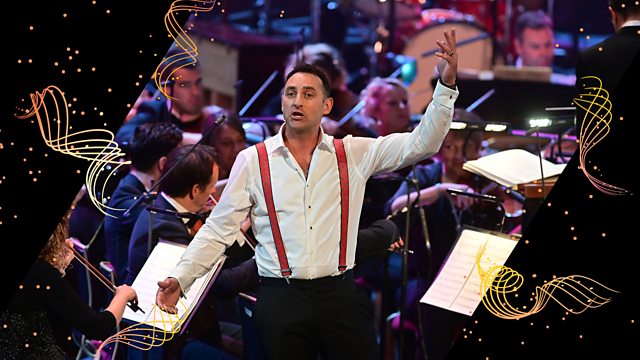 Live BBC Proms from the Royal Albert Hall. The Warner Brothers Story with the John Wilson Orchestra and the Maida Vale Singers and soloists, conducted by John Wilson.
Live at BBC Proms: the John Wilson Orchestra, the Maida Vale Singers and John Wilson in the Warner Brothers Story with works by Korngold, Warren, Romberg, Steiner, Tiomkin, Willson, Loewe, Arlen, Styne, among others. Live from the Royal Albert Hall, London Presented by Petroc Trelawny
Erich Wolfgang Korngold: The Sea Hawk - overture
Harry Warren: Gold Diggers of 1933 - We're in the money
Sigmund Romberg: The Desert song - title song
Max Steiner: The Treasure of the Sierra Madre - suite
Dimitri Tiomkin: The Old Man and the Sea - suite, 1st mvt
Meredith Willson: The Music Man - Seventy-Six Trombones
Harold Arlen: Blues in the Night - title song
Bronislav Kaper: Auntie Mame - main title
Harold Arlen: A Star is Born - Gotta Have Me Go With You
Harold Arlen: A Star is Born - The Man That Got Away
Frederick Loewe: My Fair Lady - Get Me to the Church on Time
c. 20.25 INTERVAL: Proms Plus Talk: a discussion of some of the great film scores being played tonight, with Matthew Sweet, David Benedict and Pamela Hutchinson
c. 20:50
Jule Styne: Gypsy - overture
Max Steiner: Now, Voyager - suite
Sammy Fain: Calamity Jane - The Deadwood Stage (Doris Day tribute) Jule Styne: Romance in the High Seas - It's Magic
Alex North: A Streetcar Named Desire- main title
Frederick Loewe: Camelot - if Ever I Would Leave You
Henry Mancini: The Days of Wine and Roses
Erich Wolfgang Korngold: The Constant Nymph - Tomorrow
Mikaela Bennett (singer)
Louise Dearman (singer)
Kate Lindsey (singer)
Matt Ford (singer)
Maida Vale Singers
John Wilson Orchestra
John Wilson (conductor)
Ten years since their first Proms appearance together, John Wilson and the John Wilson Orchestra present an evening of sumptuous technicoloured scores from the Golden Age of Hollywood cinema. With music from films including The Sea Hawk, The Constant Nymph, Calamity Jane, A Streetcar Named Desire and Harry Potter.
Last on

Broadcast

Featured in...
Journey into emotion with PSB, Sheku, Benedetti, Angélique Kidjo, Nina Simone, Greenwood

We broadcast more live and specially-recorded concerts and opera than any other station.