Main content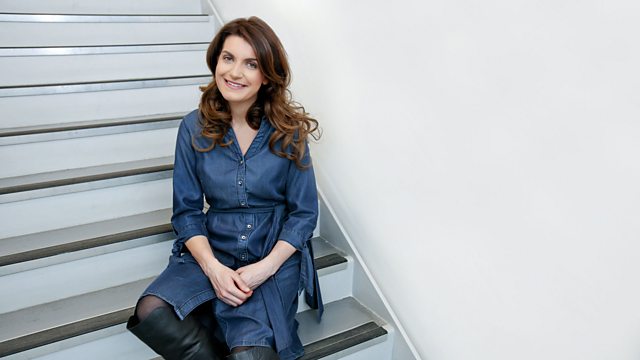 Prom 20 repeat: Pekka Kuusisto and the BBC SSO
Another chance to hear Prom 20: Thomas Dausgaard conducts the BBC SSO in Sibelius's Symphony No 5 in E flat and, with Pekka Kuusisto, the composer's Violin Concerto in D minor.
Afternoon Concert with Georgia Mann
Another chance to hear Sibelius' Violin Concerto and Fifth Symphony performed with special Finish folk music introductions.
Presented by Kate Molleson at the Royal Albert Hall, London
Trad: Finnish Folk Music
Sibelius: Violin Concerto
c.2.45pm Interval
Proms Plus Talk: Kate Molleson talks to Radio 3 New Generation Thinker Leah Brand about the music in this concert.
c.3.05pm
Trad: Finnish Folk Music
Sibelius: Symphony No. 5 (original version, 1915)
Pekka Kuusisto (violin)
Taito Hoffrén (singer)
Ilona Korhonen (singer)
Minna-Liisa Tammela (singer)
Vilma Timonen (kantele)
Timo Alakotila (harmonium)
BBC Scottish Symphony Orchestra
Thomas Dausgaard (conductor)
Violinist Pekka Kuusisto memorably set the entire Proms audience singing a Finnish folk song in 2016. Now he returns for a Prom joined by fellow Finnish folk musicians, which sprinkles rustic Finnish folk music among two pinnacles of Finnish orchestral sophistication: Sibelius's great Romantic Violin Concerto (with Kuusisto as soloist) and his Fifth Symphony – a work suffused with light and autumnal warmth.
Thomas Dausgaard conducts the symphony's original, four-movement version, allowing a glimpse into the creative process of a work that Sibelius revised over a period of four years.
Followed by a selection of recordings from this week's Proms Artists.