Main content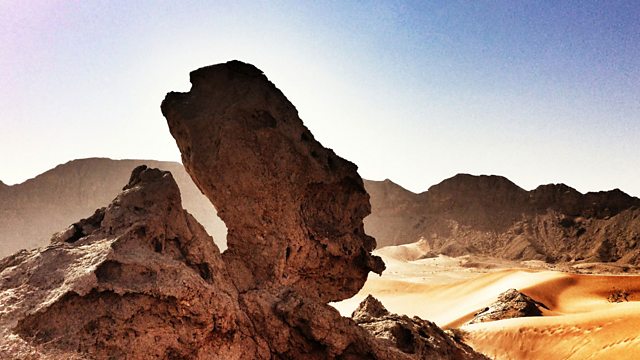 Temperatures Rising
Hot landscapes of past, present and future. Raad Rawi and Pearl Chanda evoke summer idylls, parched deserts and dystopian visions through the words of John Clare and Kamala Das.
From John Clare's white wool-sack clouds to the daydreaming figure under Meleager's plane tree, summer days have long been a time for writers to wander into fantasies and idylls.
But summer can be a time for extreme weather too - cathartic storms and raging wildfires burst forth in the music of Vivaldi and the epic accounts of Imru' al-Qais and Cassius Dio. And the fierce sun inspires a particular vividness in the African desert of H. Rider Haggard and the noontime scene in southern India that Kamala Das conjures.
These extremes may have had an exotic appeal in the past; but now, they hint at what is likely to become far more familiar, as temperatures rise.
Pack your sunscreen and join readers Raad Rawi and Pearl Chanda in the hot landscapes of past, present and future, with music by Debussy, Orff and Jobim.
Readings:
Sonnet - John Clare
Tuck Everlasting - Natalie Babbitt
Still Life with Sea Pinks and High Tide - Maura Dooley
King Solomon's Mines - H. Rider Haggard
Wasteland - T. S. Eliot
A Hot Noon in Malabar - Kamala Das
A Something In a Summer's Day - Emily Dickinson
The Day-dream - Dante Gabriel Rossetti
Epigram 196 - Meleager
Unbeaten Tracks in Japan - Isabella Bird
On the Idle Hill of Summer - A. E Housman
Hyperobjects - Timothy Morton
A Mancunian Taxi-driver Foresees His Death - Michael Symmons Roberts
Sonnet - Antonio Vivaldi
Ode - Imru' al-Qais
Roman History - Cassius Dio
In A Dark Time - Theodore Roethke
Produced by Chris Elcombe.
A Reduced Listening production for BBC Radio 3.
Music Played
Timings (where shown) are from the start of the programme in hours and minutes
John Clare - Sonnet

Read by Pearl Chanda

Natalie Babbitt - Tuck Everlasting (Opening)

Read by Raad Rawi

Maura Dooley - Still Life with Sea Pinks and High Tide, from 'The Slivering' (Bloodaxe Books, 2016)

Read by Pearl Chanda

H Rider Haggard - King Solomon's Mines (excerpt from Chapter 5)

Read by Raad Rawi

TS Eliot - The Wasteland (excerpt)

Read by Pearl Chanda and T.S. Eliot

Kamala Das - A Hot Noon in Malabar

Read by Raad Rawi

Emily Dickinson - A Something in a Summer's Day

Read by Pearl Chanda

Dante Gabriel Rossetti - The Day-dream

Read by Raad Rawi

Meleager, trans. Charles Abraham Elton - Epigram 196

Read by Pearl Chanda

Isabella Bird - Unbeaten Tracks in Japan (excerpt)

Read by Pearl Chanda

Housman - On The Idle Hill of Summer

Read by Raad Rawi

Morton - Hyperobjects (excerpt)

Read by Pearl Chanda

Michael Symmons Roberts - A Mancunian Taxi-driver Foresees his Death

Read by Raad Rawi

Antonio Vivaldi - Sonnet for 'Summer' from the Four Seasons

Read by Pearl Chanda

Antonio Vivaldi - Sonnet for 'Summer' from the Four Seasons Part 2

Read by Pearl Chanda

Imru' al-Qais - Ode (final section)

Read by Raad Rawi

Cassius Dio, trans. Earnest Cary - Roman History (translation): LXII : 17

Read by Pearl Chanda

Theodore Roethke - In A Dark Time

Read by Raad Rawi