Main content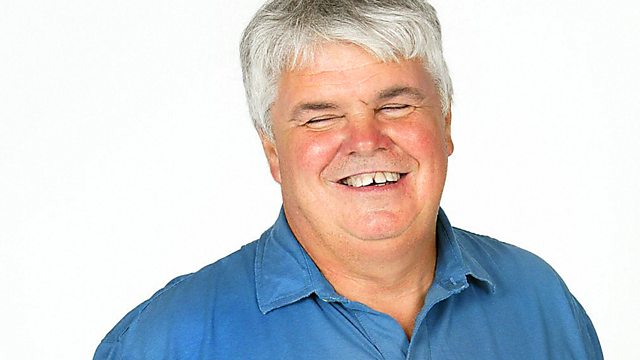 Access to Health Records and Accessible Fun
A listener is taking legal action against his local hospital for failing to provide him with letters in large print. And we report on a festival for visually-impaired young people.
Michael Tupper from Clitheroe in Lancashire tells Peter White about legal action he is taking against East Lancashire Hospitals Trust because they aren't giving him details on appointments and other information in his preferred format, large print. Michael is being supported by RNIB, whose legal adviser, Sam Fothergill, provides us with the legal background of the case.
We also hear from LookFest, which is a weekend festival in Hereford for blind and partially sighted young people. Reporter Lucy Edwards brings us the atmosphere and chats to parents and their children.
Finally, Christina Keiller who has two sensory impairments, joins us from Brighton and explains the challenges she faces of being both visually impaired and having hyperacusis.
Presenter: Peter White
Producer: Tom Walker
Last on
In Touch Transcript: 06-08-19
Downloaded from www.bbc.co.uk/radio4

THE ATTACHED TRANSCRIPT WAS TYPED FROM A RECORDING AND NOT COPIED FROM AN ORIGINAL SCRIPT.  BECAUSE OF THE RISK OF MISHEARING AND THE DIFFICULTY IN SOME CASES OF IDENTIFYING INDIVIDUAL SPEAKERS, THE BBC CANNOT VOUCH FOR ITS COMPLETE ACCURACY.
IN TOUCH – Access to health records and accessible fun
TX:  06.08.2019  2040-2100
PRESENTER:          PETER WHITE

PRODUCER:            TOM WALKER
White
Good evening.  Tonight, why blind patients still struggle to keep their health data confidential.  And the festival which shows what's possible for visually impaired children, which is pretty well anything.
Clip
I'm running with the ball towards the defender.  I'm waiting for a clap from my – from me mate.  She's now clapped, so I'm going to throw the ball back…
White
More from a weekend of fun in Hereford later in the programme.
And something else that's possible – getting your ideas discussed on the programme.  Just a few days ago Christina Keiller got in touch with an issue she thought needed to be aired.  Today she's our guest on the programme, joining us from Brighton.  In a nutshell, Christina, what do you think we've been missing?
Keiller
Well I have a severe visual impairment and a hearing condition on top of that and I'm interested in how other people experience being affected both by visual and hearing issues and how we can manage this combination well.
White
Well you couldn't have been more succinct Christina; we'll hear more from you about that in a few moments.
But first, three years ago this week a standard was introduced by NHS England, which promised visually impaired people the right to receive information, such as test results, appointments, etc., in their preferred formats.  It followed constant complaints – many of them to this programme – saying that despite repeated requests to have information in a form they could read – braille, large print, text, emails – there are plenty of options, they continued to get print letters totally inaccessible to them.  And the trouble is, despite that new standard, it's still happening.  Well now Michael Tupper, from Clitheroe, has had enough and with help from the RNIB he's making a stand.
Tupper
For a number of years now, since the accessible information came into force on 1st August 2016, I have been asking East Lancs Hospital Trust to send my correspondence to me in a format which I require, which is large print.  Every time I get a letter from them it usually turns up in standard print, occasionally it will come up with a large print version but on the majority of occasions it's standard print.
White
What are the implications of this, as far as you're concerned?  I mean, for example, how feasible would it be to get someone to read these letters to you?
Tupper
That's fair enough, I can understand that I could get people to read them to me but some of the letters contain very delicate information.  I have urology problems, bowel problems.  If I have to start passing them around for people to read them, that's giving sort of information to people about my personal bits and pieces and I'm not in the position or don't wish to do that with anybody.  I can just about read the letters with a magnifier but it depends what style of print it's in to start of with.  If it was in – if it was all in Aerial 14 it wouldn't probably be quite so bad but most of it comes in very, very thin print.  And when there's telephone numbers or times and dates to read if there's a six or a nine or a five or an eight I have a problem distinguishing those numbers particularly and I could get the dates wrong, it would mean that I could miss an appointment and the pressures in my eyes could increase.
White
And that's part of the irony of this, that some of these communications have come from the eye department.
Tupper
The majority of them have come from the ophthalmology department, you're perfectly correct, which, as you say, is quite ironic.  I mean of all departments you would expect to get it right it would be them.  And the hospital trust actually did the pilot scheme for the accessible information standard to come in prior to it coming in and I worked with the diversity and equality manager there to set the whole thing up.  And one of their urology receptionists managed to find a way to do it, so I thought the problem was solved but it obviously hasn't been solved because I'm still getting them in standard print.
White
What does the hospital trust say when you put this to them?
Tupper
Every time I mention it, they usually turn around and say yes, we'll try and do our best to send it out to you in large print, as you've requested.
White
Let me bring in Sam Fothergill, who is the RNIB's legal advisor.  First of all, in this case what are Michael's and other blind people's rights precisely?
Fothergill
Under the Equality Act you have a right to receive your information in an accessible format.  That's been since 2010.
White
So, in a way, was the accessible information standard necessary, if that was the law?
Fothergill
Well I think it was necessary because we found that the majority of NHS organisations weren't complying and so we thought that by getting the accessible information standard that would almost force them into it.
White
So, that rule of accessibility, does that mean that a visually impaired patient can have the information in any form they want?  I mean some solutions are easier than others for an organisation to comply with.
Fothergill
Well the NHS bodies only have to do what's reasonable but the majority of people will want pretty standard format, so braille, large print, email, audio.
White
So, in terms of enlarging print, as Michael wants, can you see a problem from that point of view?
Fothergill
Not at all, no.  It's just the trusts not having the processes in place to actually do it, I think is what the problem is.
White
What has the East Lancashire Hospitals Trust said to you about this, because I think the RNIB – you have approached them about it?
Fothergill
Yeah, we obviously wrote to them before we issued proceedings but I think that they didn't really acknowledge that they had a problem.  They told us that the files were all marked up and therefore it would happen and obviously it clearly didn't and after we got that letter from them saying everything was fine, Mike then received a series of inaccessible letters and so we felt we had no choice but to issue proceedings to kind of force the issue and to make sure that something gets done about it.
White
So, the information standard, the accessible information standard clearly hasn't been working as far as Mike's concerned but it's been in operation for three years, is it working generally do you think?
Fothergill
I think the answer is no.  We get a lot of complaints about accessible health information, I'd say it's probably the largest category of complaint that we receive within our department, which is the policy and campaigns team.
White
Well we naturally invited the East Lancs NHS Hospital Trust to appear on the programme.  They weren't able to put anyone up.  But they did say it's their aim to implement the accessible information standard but on some occasions, and I quote:  "Our administrative processes haven't worked as they should," they say, "we'd like to offer an apology to Mr Tupper and any other of our patients who may have suffered inconvenience through receiving information in a form not suitable for their needs".  We've talked since to the RNIB and Michael Tupper, they say this doesn't go far enough.
Well our guest, Christina Keiller was listening to that.  Your issue, that you want to raise with us, is health related, so, before we get to it what's been your experience of getting accessible information from the NHS?
Keiller
Well I have to say that I have requested letters in large print from my local university hospital and I do get large print letters, so I'm very happy with that.
White
Which proves it can be done, I guess.  Christina, just explain a bit more, first of all, about your own circumstances because you weren't actually born here were you?
Keiller
No, I am Danish.
White
Right, and so you came over here.  And this problem that you're raising with us, of dual disability, how did it come about?
Keiller
Well, I came over here about 20 years ago actually, just this week, and about 17 years ago I went to a concert where there was some dancing and someone was really nice and suggested I should sit at the front, which was great, the only thing was that I was sitting next to the speaker and unfortunately it resulted in – I've now got a hearing condition that's called hyperacusis, so I'm very sensitive to noise.
White
And that's the point, isn't it, it's not actually so much about hearing levels that you've lost, as about sensitivity?
Keiller
Yes.
White
So, what does that result in, what are the effects of that?
Keiller
Basically, it means that any loud noises are difficult for me to tolerate, so any loud noises like in restaurants or from traffic or music is an issue for me now.
White
I mean do you have to avoid those places; how do you deal with that?
Keiller
Well I've found my own way of dealing with it, it's a very rare disease, or very rare condition…
White
But the point that you really wanted to make was that this is a dual disability and double disability makes it complicated trying to weave it in with visual impairment.
Keiller
Absolutely, absolutely, so, it's trying to manage a visual impairment and then at the same time trying to manage the hearing impairment.
White
How much is it about how people react?  I mean is it that people, in a way, can only see one disability at a time as it were?
Keiller
Yes, I try to keep it very simple when I try to explain my conditions and try to focus on one rather than focus on both of them and I think some people experience, with age, that they've been able to live with their visual impairment and found ways of managing that and then creeping in on top of that can come a hearing impairment.  I mean mine came very suddenly and I had to adapt to that quite quickly.
White
We're certainly inviting people who've had experience of this to get in touch with us, which I think is what you wanted.  Do stay with us for our last item as well. 
Most summer fetes and festivals try to lay on entertainment to keep the kids amused but a lot of the activities will be visual – throwing things, shooting at things – which tend to exclude blind children who go along with their families.  Not so LOOKfest.  The rule there is the absolute reverse, everything from sport to arts to building a den must be accessible.  Look is an organisation for families with a child with a visual impairment.  Lucy Edwards went along for us to join in the LOOKfest fun.
Actuality
One, two, three.
I am VIP.
Edwards
Let's get festival ready.  I'm here at LOOKfest in Hereford, the first summer event for VI families.  The atmosphere is so great, it's lively, there's tents pitched up, families ready to spend their weekends here.  It's a brand-new event, I'm ready to see what it's all about and join in.
Child
I grab a stick.  I like put it on the…
Edwards
I've just arrived at the first activity of the day – den making in the woods – and there's loads of mud huts around me and the families are gathered in a central area learning from a LOOK mentor how to make a den.  So, I'm just going to go and chat to some of them to see how they're enjoying it.
Ellie
My name's Ellie and this is my sister Keira. 
Edwards
Lovely and what about mum and dad?
Chris
So, I'm Chris Clark, I'm dad.
Ellie
And mummy's Kate.
Kate
And I'm Kate.
Edwards
What would you usually be doing on a Saturday?
Ellie
Going to football.
Edwards
And is LOOKfest something you've really enjoyed so far?
Ellie
Yes.
Edwards
Why have you enjoyed it?
Ellie
Because there's lots of fun activities.
Chris
I think it's good for us to get to come and see other families with children with visual impairments, get to talk to similar people in similar situations and to see the kids having fun, I think that's the main thing for us is seeing them have accessible activities that they can do and just be normal children.
Yeah, so it's great for Ellie but it's also great for Keira, as a sibling of a visually impaired child, to come and experience so many of the positive activities that are ongoing.  I mean Ellie gets opportunities to do all of these different fun activities but it also gives Keira the time to do that, which she wouldn't necessarily get to do if we were just going around – if we had two sighted children.
Carson
My name's Charlotte Carson and I'm the Director of LOOK.  And we've set up a youth mentoring project where we connect young visually impaired people with a mentor, to help them through the different challenges in their life, whether that be in school, moving on to university or college, whether that's about learning to use a cane, whether it's about wanting to feel better about being visually impaired or whether you've been newly diagnosed with a visual impairment.  We want to match young people with another young visually impaired person who's been through those challenges.
Hollingshead
I'm George Hollingshead and I'm a LOOK mentor.  I have been visually impaired/blind since birth and my mum didn't know where to go for help because I live quite rurally.  So, she came to Birmingham where LOOK had just been started and she got a lot of information and help, chatting to parents and other people with a visual impairment.  And then as I've got older, I've had continued work with LOOK – at school we've done sports, we've done campaigning, things like that.  And then a couple of years ago I was asked to join the mentoring programme.  So, that's basically going through all these things as a kid – school problems, socialising, transport – all these ways and just at that point I would have wanted to have someone who I could talk to who could give me little hints and tips that would have saved a lot of time.  So, I felt that I needed to give back and talk to people and I feel that I've got as much out of the mentoring as my mentees have too, I mean I hope they have.
Edwards
I'm just here at Carnival Arts with Kim and she's just going to talk me through what she's doing today in this activity.
Kim
Okay, so we've got weaves, which are like – it's willow and it's really soft and flexible and it's been soaking in water overnight.  And what we've been doing is we've been cutting them and sellotaping them together to make a shape, it's a rainbow shape.  Do you want to feel what I've done so far?
Edwards
Yeah, let's have a feel.  Oh, wow and what would you use this for?
Kim
It's just a nice decoration and it kind of rustles in the wind as well.
Edwards
Just walking up the path to blind rugby now. 
Rugby player
I'm running with the ball towards the defender.  I'm waiting for a clap from my – from me mate.  She's now clapped, so I'm going to throw the ball back.
Edwards
I'm here with Chris and he's running VI rugby, cricket and football today.
How are these sports adapted for VI children and families today at LOOKfest?
Chris
Well most significantly the balls will have either bells or ball bearings, so, people who have more sight loss can hear where the ball is rather than using their sight.  But with people who have useful vision the balls are also bright yellow or bright white, just to give them more indicators as to where the ball is on the pitch or on the field.
Carson
What we wanted to do with the festival was give young people work experience also.  They can put on their CV they've helped run and create a festival and we really wanted to do that.
White
Charlotte Carson of LOOK ending Lucy Edwards report.
Christina Keiller, our guest today, it's possible that one of the effects of blind children going to mainstream schools is that they and their families perhaps have less contact with other blind children than they might have done in the past.  You're from Denmark where mainstreaming was adopted pretty early, I wondered what your experience was.
Keiller
Well my experience was that I lived in a very rural area, so I was put in the local school and I would say that, for me, that worked really well.  I had some additional support, which worked really well for me and it was kind of tailored specifically to my needs.  And that followed me through my education really.  So, I would say that has been very positive for me.
White
And what about what you observe here?  Your children are sighted, I think, are there blind children at their schools and what's their attitude to being at mainstream school?
Keiller
Yes, I think it's very varied.  I know two children in mainstream school and the one child is doing very well, she's visually impaired and I also know someone who's blind in that school.  And I think it's a bit of a mixed bag because I think the blind girl would prefer to be in a specialist school, just because she feels that the challenges are quite significant, just even things like getting around the school is quite tricky.  So, I think it's very mixed.
White
Right, well we would be very much interested in hearing people's responses.  It still sounds as if horses for courses is still the attitude on that.  Christina Keiller thanks very much for joining us.  And that issue about dual disability is one we'd also like response on.  Plenty for In Touch listeners to go at, you can call 0161 8361338, to leave us a direct message.  You can email intouch@bbc.co.uk or you can go to our website, that's bbc.co.uk/intouch and from there you can also download tonight's and previous editions of the programme.
From me, Peter White, producer Tom Walker, Christina and the team, goodbye.
Broadcast