Main content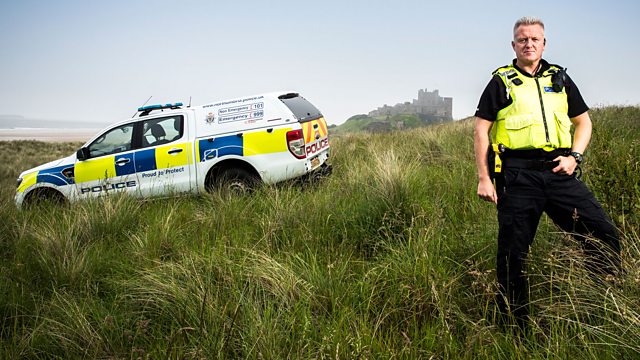 When a body is discovered, murder detectives start a manhunt for suspects. Elsewhere rural officers intensify efforts to prevent poaching in rural areas and detectives investigate.
This episode follows the Northumbria cops as they tackle an array of crimes from the top to the bottom of the force area that present very different challenges from urban cities through to rural farmland. And whilst some suspects are hard to find, finding evidence to charge others can be challenging.
While 155 of Northumbria's cops are working on policing a local derby football match between Newcastle and Sunderland, a tragic call comes in the control room. A father of two has been fatally stabbed to death and senior murder detective DCI John Bent and his team must scramble to investigate in a case where there is little time or room for contemplation. 'You turn up and it's like a maelstrom of information coming at you and the challenge is to be able to pick the bits of information that you need to deal with quickly…You walk in that door and the expectation on you is that you get that job sorted'.
When officers arrive to the scene, the victim's flatmate is acting suspiciously and refuses to cooperate so is arrested and taken in to custody. The following day, John and his team receive information identifying a 47 year old man as another chief suspect. John has to employ every tactic in the book to track him down 'There's no bigger responsibility and privilege than investigating the death of another. Ultimately I'm always thinking of the family and how would I feel if I let them down, how would my team feel if we let them down? And that's what drives you...'. Once the suspect has been tracked down, John has a nail-biting wait for the results of forensic evidence which he would need to secure a conviction.
As the son of a gamekeeper, wildlife and neighbourhood officer PC Lee Davison is also driven by responsibility to the community he serves a
world away from central Newcastle. 'Policing the city centre is certainly very different, We're not all in it for driving the fast cars or getting in rough and tumble on a Friday or Saturday night but we are all in it for the same reason ultimately – to help people and catch the baddies' In the 900 square miles he looks after, there is a problem with poaching and rural theft, very different from the cosy idea of 'poaching for the pot'. Poachers have been intimidating and threatening local farmers and setting their dogs on animals for sport. Lee enlists the support of police service volunteers and the local community to carry out an innovative night time operation in the depths of the countryside to catch poachers in action.
Elsewhere across the Force, detectives in Sunderland are dealing with a violent carjacking of a 19 year old woman on her way to pick up her
mum.