Main content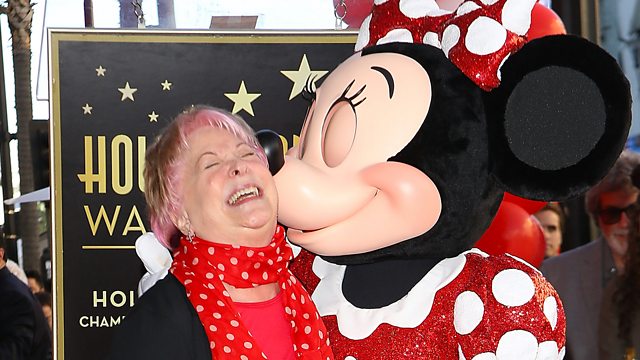 Russi Taylor, Beji Caid Essebsi, Jane Hubert, Iván Erőd
Matthew Bannister on Tunisian President Beji Caid Essebsi, voice artist Russi Taylor, anthropologist Jane Hubert and composer Ivan Erod.
Pictured: Russi Taylor
Matthew Bannister on
Beji Caid Essebsi who became the first democratically elected President of Tunisia in the aftermath of the Arab Spring.
Russi Taylor the versatile voice artist best known for playing Minnie Mouse. She married the man who did the voice for Mickey Mouse.
Jane Hubert, the anthropologist and psychologist who studied young people with severe learning disabilities and transformed the academic study of archaeology.
Ivan Erod who fled persecution and, in exile, became one of Hungary's leading composers.
Interviewed guest: Mohamed El Aassar
Interviewed guest: Martin Anderson
Interviewed guest: Peter Stone
Interviewed guest: Brian Sibley
Producer: Neil George
Archive Clips from: The White House video archive, 07/10/2011; Actuality of Tunisian Uprising, RT, 14/01/2011; BBC News, 30/06/ 2015; Beji Caid Essebsi inauguration ceremony, AP archive 03/08/2015; Tunisian Television -al watania, 27/07/2019; The Voice Behind The Mouse, Walt Disney Home Video; The Spirit of Mickey, Buena Vista Home Entertainment
Russi Taylor
Born 4 May 1944; died 26 July 2019, aged 75.
Last Word spoke to writer, Brian Sibley, who has written many books about Disney
Beji Caid Essebsi
Born 29 November 1926; died 25 July 2019, aged 92.
Last Word spoke to Mohamed El Aassar, Senior Journalist at BBC Monitoring 
Jane Hubert
Born 16 March 1935; died 21 June 2019, aged 84.
Last Word spoke to Peter Stone, friend and UNESCO chair in cultural property, protection and peace at Newcastle University
Iván Erőd
Born 2 January 1936; died 24 June 2019, aged 83.
Last Word spoke to Martin Anderson, writer and publisher (of books on and CDs of classical music)