Main content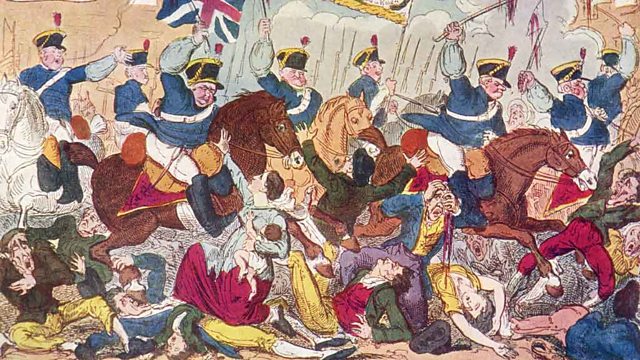 Episode 1 - The build-up to Peterloo
Guardian editor-in-chief Katharine Viner charts the story of the infamous Peterloo Massacre. In Part 1 she looks at the build-up to the devastating events on August 16th 1819.
Guardian Editor-in-Chief Katharine Viner charts the story of the infamous - a devastating event 200 years ago in Manchester, which would have a huge impact on how Britain was run.
Up to 80,000 people had gathered in an area that was then known as St Peter's Field in the heart of what is now city centre Manchester. Many had walked from as far afield as Bolton, Stockport and even from over the hills in the West Riding of Yorkshire. Their mission - to peacefully demand more democracy and representation in parliament.
There was tremendous unrest in working-class communities at the time. In the cotton trade, technology had started to replace what was largely a cottage industry with huge mills. Life was hard and poverty was widespread. Areas like Manchester had no direct representation in parliament. An alliance of middle and working class people united in a common effort to find ways of raising these issues with the Government.
In the meantime, the authorities, aware of what had happened in the French Revolution, were nervous the same thing could happen in Britain. And so any sign of revolt or rebellion, however peaceful, was quashed where possible.
On August 16th 1819, troops charged the crowds in St Peter's Field - 18 people lost their lives and around 700 were injured. Within days, the press were referring to it as The Peterloo Massacre, after the battle of Waterloo just four years earlier.
In this first of two programmes, Katharine meets descendants of people who were there that day. She examines the background and build-up and hears graphic accounts of the slaughter, death and injury. There are contributions from leading historians as well as dramatic reconstructions of real testimony from the time.
A Made in Manchester production for BBC Radio 4
Last on
Broadcasts