Main content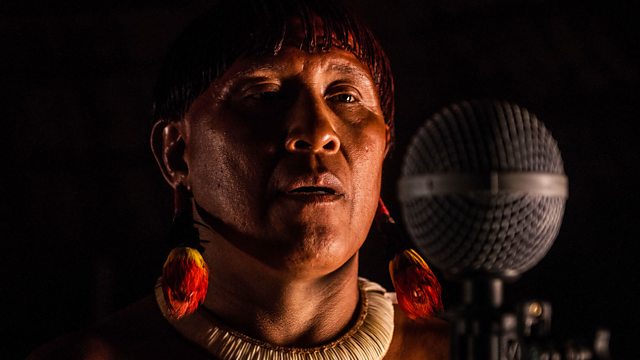 An Orchestra of the Rainforest
Nathaniel Mann, a singer from Essex, travels to Brazil's rainforest to work alongside indigenous singer Akari Wauja for a unique musical collaboration.
The destruction of the rain forest has reached a critical stage – so how can the people who live there grab the attention of the world?
One community, the Wauja, who live in the Xingu reservation in Brazil, had a new idea - music.
Two years ago they invited a young UK composer, Nathaniel Mann, to collaborate with their musician, Akari. The hope was that they would eventually perform with the State Orchestra of Mato Grosso, one of the most exciting in Brazil, and also record a CD that might lead to publicity.
We follow Nathaniel as he gets to know Akari - 6 foot tall, powerfully built, and regularly decorated in dramatic body paint. Akari is also familiar with the world outside the indigenous reservation - he has a flat screen TV in his home, and a mobile phone (albeit rarely with any signal). But the music he performs is surrounded by complex traditional rituals. As Mann learns some of the history of the Wauja music, he also learns about a sacred cave, thousands of years old – The Kamkuwaka Cave - which is under threat.
Every year, the young Wauja are taken on a two day journey to visit the cave, where they are taught their creation myth, but the cave now lies outside the protection of the Xingu reservation, where developers are keen to bury it under a road carrying the spoils of Brazil's massive agriculture industry.
Mann alerts Factum Arte in Madrid, who in the past have made 3D scans and replicas of such sites as the Egyptian tombs of Seti I, Thutmose III and Tutankhamen, and so the race to save the cave begins.
Presenter: Nathaniel Mann
Producer: Sara Jane Hall
Photographs by kind permission of Jean Nunes.
About the presenter: Nathaniel Mann has no doubt of the challenges in this project - one of his former roles was as embedded composer at the Pitt Rivers Museum in Oxford - he is well aware of cultural pitfalls - but this is a wonderful means of accessing a community under threat, and hearing some extraordinary sounds and music. Most recently he received a prestigious grant from the Arts Foundation for young composers, and he has previously appeared on BBC Radio 4 in "A Cape Sound Story", "Dead Rats and Meat Cleavers" and "The Pigeon Whistles".
With thanks to: Renata Peppl, Irene Guame, Charlie Westgarth, Ferdinand Suamerex Smith, Adam Lowe, British Council Music, PRSF, Factum Foundation, The Arts Foundation. People Palace Projects, Mafalda, Patricia, Aristoteles, Erika, The Wauja Community, the Kuikuro community, the wider Xingu community and Funai.
Last on
Broadcasts