Main content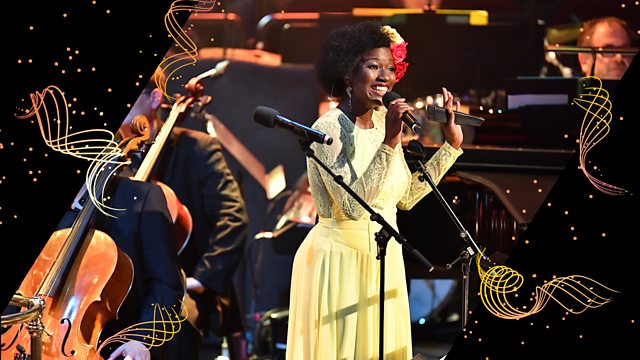 Prom 11 repeat: 1969 - The Sound of a Summer
Another chance to hear Prom 11: the BBC Concert Orchestra, Stephen Bell, Vanessa Haynes, Tony Momrelle and the Will Gregory Moog Ensemble in a programme inspired by the year 1969.
Afternoon Concert with Penny Gore.
Another chance to hear the BBC Concert Orchestra and conductor Stephen Bell, with singers Vanessa Haynes and Tony Momrelle, and the Will Gregory Moog Ensemble.
Presented by Lemn Sissay at the Royal Albert Hall, London
Joni Mitchell: Woodstock
Walton: Battle of Britain Suite
Bacharach/David: Raindrops Keep Falling On My Head
Fred Neil: Everybody's Talkin' At Me
John Barry: Midnight Cowboy
John Barry: Ski Chase from On Her Majesty's Secret Service
Lennon/McCartney: Get Back
George Harrison: Something
George Harrison: Here Comes The Sun
Interval: Proms Plus
Poets Jacob Polley and Rachael Allen read their poetry and respond to themes in the music of tonight's concert. If the summer of 1969 was a time of hedonism and optimistic exploration of space does that echo down the decades? Hosted by New Generation Thinker and author Preti Taneja. Produced by Zahid Warley.
Bach: Brandenburg Concerto No.3 (1st movt)
Legrand: What Are You Doing The Rest of Your Life
Quincy Jones: On Days Like This
Will Gregory: Journey to the Sky
Whitfield/Strong: I Heard It Through The Grapevine
Bacharach/David: I Say A Little Prayer
Vanessa Haynes and Tony Momrelle (singers)
Will Gregory Moog Ensemble
BBC Concert Orchestra
Stephen Bell (conductor)
Woodstock, the Apollo 11 mission to the Moon, the ongoing Vietnam War, The Beatles' final album (Abbey Road) – 1969 was a pivotal year.
This Prom explores the film and popular music of 1969 to revive the soundtrack of a special summer.
The BBC Concert Orchestra under Stephen Bell presents a typically wide-angled view, taking in music inspired by the era-defining Woodstock festival, excerpts from the films Battle of Britain, The Italian Job, Butch Cassidy and the Sundance Kid and Midnight Cowboy, and 'Here Comes the Sun' from The Beatles' final album Abbey Road.
As the USA's victory in the space race inspired new music to match the emerging digital era, the Moog synthesizer broke into the mainstream with the album Switched-on Bach. A concert evoking the end of the Swinging Sixties, with a cross-generational appeal that offers both a sunburst of nostalgia and iconic revivals.