Main content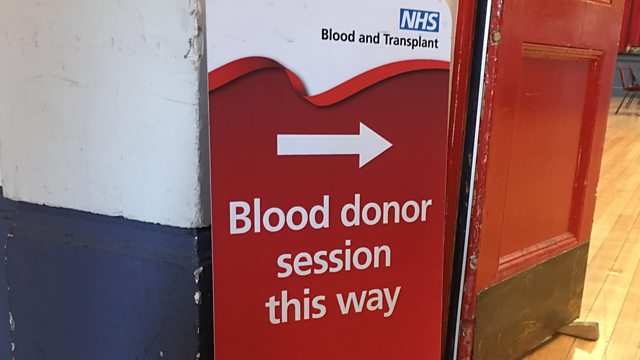 The Black Blood Donor Crisis
Lindsay Johns asks why so few black Britons give blood and examines why it matters.
Lindsay Johns is lying on a reclining chair in Tooting, south London, with a needle in his arm. He's giving platelets – as he has done every two weeks for more than a decade. On the wall opposite him is a poster pleading for more black and Asian blood donors, a call which often goes unheeded. Exasperated, Lindsay is now setting out to find out why rates of blood donation are so low amongst people of colour like him.
This chronic shortage of BAME donors can cause clinical problems. Contrary to popular belief, not all blood is the same, and some types of rare blood are only found in donors from minority backgrounds. And there is a particularly high demand from people who need regular transfusions, like those with sickle cell disease.
Which all poses the question: why is there still a problem? Lindsay will set out from Tooting on a mission to answer it.
In Cardiff he meets a doctor who explains how this shortage of blood from donors of colour can cause health problems. In London, he meets people with sickle cell disease who drag their friends along to give blood, joins an NHS blood drive in one of the city's most diverse boroughs, and meets a Muslim man who wants to see more Muslims give blood. Along the way he hears from a BBC journalist who thinks she has part of the answer, and a researcher with the Dutch blood donation system who has studied all the international research. And finally he travels back to the office above the clinic in Tooting, to meet the woman tasked with solving the problem for the NHS.
Producer: Giles Edwards
Last on
Broadcasts