Main content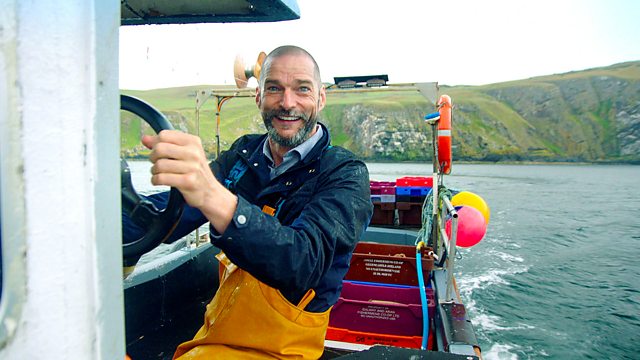 Chef Tom Kerridge takes Fred to Edinburgh to enjoy stunning local produce at one of the city's most famous fine-dining restaurants and to sample Scotland's best fish and chips.
Tom Kerridge is taking Fred to Edinburgh, a city that is home to one of the UK's most vibrant food scenes. Tom won two Michelin stars cooking in his pub The Hand and Flowers, and loves places that offer great ingredients, artful cooking and an unfussy atmosphere.
Top of Tom's list is Kitchin, a fine-dining restaurant in Leith, owned and run by chef Tom Kitchin. Leith is an old shipping port just north of Edinburgh's historic city centre. Once famous as the location of Trainspotting, Leith has undergone a regeneration spearheaded by the restaurant and bar scene. Fred is excited, not just to be hanging with Tom Kerridge in the cool part of town, but because he has seen Tom Kitchin's beautiful dishes on Instagram and is keen to find out if they taste as good as they look. Tom Kerridge is happy that he is welcome to a Michelin-starred restaurant wearing jeans and a t-shirt under his jacket.
Kitchin offers a range of menus from a £33 set lunch to a £150 five-course tasting menu, but they are all designed to showcase the best of Scottish produce. Each diner is given a map that marks where in Scotland each item on the menu is sourced. Tom Kerridge points out that the ingredients he uses at his restaurant come from all corners of the UK, and that being able to offer this range of local ingredients is part of the magic of Kitchin.
Ordering from the a la carte menu, Fred and Tom both start with venison - a terrine, a liver parfait with bramble and apple and venison tartare, all made with Scottish seasonal roe deer. Fred is delighted to confirm it tastes every bit as good as it looks, while Tom Kerridge is fascinated that the chef has artfully used the whole deer to make the various elements of the dish.
Visiting the kitchen the following morning, Tom and Fred admire Tom Kitchin's skill with ingredients. Each roe deer he buys makes 46 servings, with the cheaper cuts worked into terrine and served in the affordable set lunch, and buying the whole animal means Tom gets the prime cuts for a more reasonable price. Tom Kitchin also encourages suppliers to come directly to the back door of the restaurant to offer him any special items they may have that day. Whether it is a giant turbot or some diver-caught scallops, Tom Kitchin can't resist adding new items to his special menu and his team of chefs love this direct connection with the best products Scotland has to offer.
The next restaurant Tom wants Fred to experience takes the connection between plate and local produce to a new level. Before they get to eat, Tom and Fred hit the road in their 4x4 for a bit of 'boys on tour' banter and drive through some stunning scenery to a unique farm where retired businessman Moshin and his wife Martine produce wagyu beef. Wagyu beef originates in Japan, and the highly prized meat, known for its intense fatty marbling, sells for up to £400 per kilo. Moshin and Martine rear pure blood wagyu stock, but what Tom wants to see are their wagyu /Aberdeen Angus cross breeds, that they call Wangus. Breeding is just part of what makes the meat so special and they do all they can to create a stress free environment for the cows – including the Japanese tradition of massaging the cows.
Fred rolls up his sleeves to have a go at cow massage, and learns that the high maintenance routine means it costs around £1500 to feed and care for each cow. However, what matters is the taste and that means a visit to Moshin's restaurant in what was once the local pub five miles down the road from the farm. Here, premium Wagyu and Wangus steaks are on the menu, but so is a range of tempting and affordable dishes made from less popular cuts. Fred is excited to try a Wangus burger while Tom is tempted by a wrap, made using grilled skirt and roast peppers, with both main courses less than £30 for some seriously flavoursome locally produced beef.
The final stop of Tom's tour is a newcomer to the Edinburgh restaurant scene, housed in the recently renovated old Newhaven fish market. Fish Market has been set up by restaurateur Roy Brett, who runs Ondine, Edinburgh's most popular sea food restaurant, in partnership with the Welsh fishmongers - the family who have supplied many of Edinburgh's top restaurants for decades.
In charge here is Ishu, and he is responsible for delivering up to 700 portions of cooked-to-order, perfect fish and chips in a night. To understand how challenging that is, Fred and Tom try prepping some of the 30 sacks of potatoes that get turned into chips here every day and learn the secrets of mixing the perfect batter. However, here, just as in all Tom's favourite Edinburgh restaurants, the real magic is the close connection to local ingredients. Trying their hand at filleting fresh-off-the-boat haddock the veteran fishmonger Kenny Welsh gives Tom and Fred real appreciation of the excellence of the local ingredients – as does tucking in at last to their own fish and chips.
Music Played
Timings (where shown) are from the start of the programme in hours and minutes
Credits
| Role | Contributor |
| --- | --- |
| Production Company | Outline Productions Ltd |
| Series Producer | Katy Fryer |
| Producer | Tara Jang |
| Presenter | Tom Kerridge |
| Executive Producer | Helen Veale |
| Production Manager | Clare Crossley |