Main content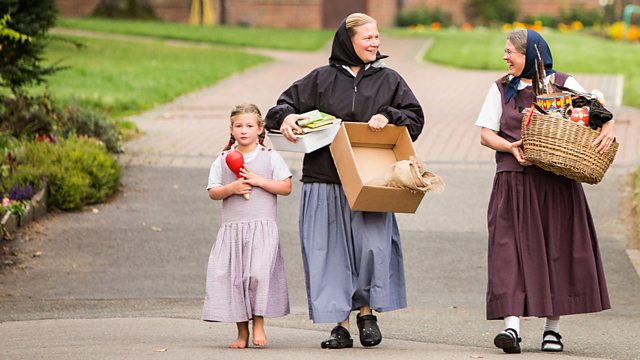 Inside the Bruderhof
In a Sussex village, a community has turned its back on the modern world to live a life free of money, crime and homelessness. But one young resident is questioning her future.
In one picturesque village in Sussex, life is very different. There's no crime, debt or homelessness, everyone has a job but no-one earns a wage, and none of the children watch television, use social media, play video games or have a mobile phone.
With unique access to this historically private community, this film enters the remarkable village of Darvell, where for almost 50 years an extraordinary radical Christian community, the Bruderhof, has lived outside mainstream society. The film holds a mirror up to modern Britain, with its consumerist concerns, high crime and deprivation rates, and looks at this community's simple way of life, while also exploring the personal costs and sacrifices required to live there.
Hannah, Bernard and Hardy are part of the 300-strong village of brothers and sisters living as disciples of Jesus. Bernard, his wife Rachel and their three children live a 'back to basics' lifestyle in a shared house with several other families, including Bernard's parents. Most of their meals are taken with the other residents in a large communal dining room where they eat, sing and worship together.
Outgoing and inquisitive, Hannah is questioning this way of life. At 18, she wants to experience life outside the community she was born into before making a lifelong commitment. The film follows her extraordinary journey as she leaves her family and the familiarity of this closeted community behind, and makes her way to the big city – London. But whilst Hannah experiences the independence of her first paid job, she also begins to question both the Bruderhof way of life and her experiences in mainstream society.
As a teenager, Hardy became acutely aware of the sacrifices members of the Bruderhof have to make. Together with his five siblings, he
rebelled against the ideals of the community, and with their blessing, his family left the Bruderhof and began a new life outside. Hardy has since returned to the community, accepting that a life there is one of sacrifice – not only surrendering all possessions and money, but something greater: giving up personal ambition and the freedom to make his own decisions. Whilst Hardy and Bernard are happy to make this commitment for a greater cause, will the fresh opportunities that Hannah is discovering in the city tempt her away?
This programme has been edited since broadcast. The original transmission featured an end card, now removed, stating that some former members of the Bruderhof made allegations against the community regarding their treatment whilst living there.
Credits
| Role | Contributor |
| --- | --- |
| Narrator | Katherine Jakeways |
| Director | Emma Pentecost |
| Producer | Karen Emsley |
| Editor | Dave Jacobs |
| Production Manager | Emily Wilkinson |
| Executive Producer | Caroline Matthews |
| Executive Producer | Mark Procter |
| Production Company | CTVC |