Main content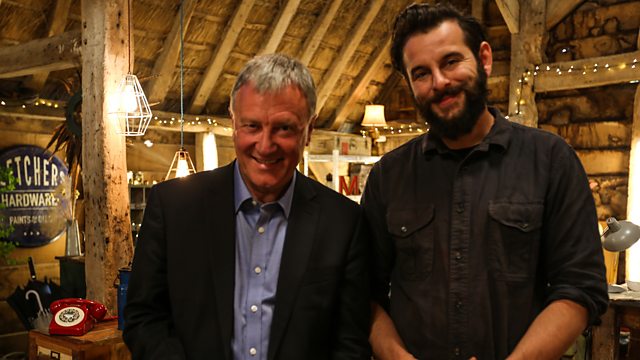 Episode 1
In the Repair Shop today, the team take on an antique skeleton clock, a giant teddy bear, a beloved transistor radio and a pair of wire cutters from the Battle of the Somme.
Today in the Repair Shop, Jay Blades and the team bring three treasured family heirlooms, and the memories they hold, back to life.
Resident clock maker Steven Fletcher rescues a very special skeleton clock just in the nick of time. This Victorian antiquity has been in Nigel Burch's family for four generations. It was awarded to his to grandfather Ernest Sidney, in 1918, who despite sustaining an injury in WW1 went to become a successful athlete. Now with Nigel's son Pete in training for the 2020 Paralympics, the time is right to hand for Nigel to hand over the precious timepiece to the next generation.
Teddy bear repair pair Amanda and Julie have a huge job on their hands, bringing a giant bear back to his former glory. Owner Stefan wants to pass 'Big Ted' down to his ten-year-old daughter Jessica, but sadly this larger than life bear is a shadow of his former self, currently living out his days in a black bin-liner with all the stuffing knocked out of him. Julie and Amanda soon run out of work space in the barn, so take Big Ted outside to start his transformation into a cuddly colossus.
Vintage radio restorer Mark Stuckey revives a much loved transistor radio, which holds very dear memories for its owner. Bought by Albert Thompson and his then-girlfriend Eileen in 1961, it provided the sound track to Albert and Eileen's courtship and to their long and happy marriage. Sadly, the radio broke down and stopped working two years to the day after Albert's beloved wife Eileen passed away. It will take the combined efforts of three of the Repair Shop's finest experts to bring it back to life, and playing sweet music once again.
And metal expert Dominic Chinea takes on the repair of a set of wire cutters that saw action in the Battle of the Somme.
More episodes
Previous
You are at the first episode
Credits
| Role | Contributor |
| --- | --- |
| Expert | Dominic Chinea |
| Series Editor | Sandy Watson |
| Expert | Steven Fletcher |
| Expert | Suzie Fletcher |
| Expert | William Kirk |
| Expert | Amanda Middleditch |
| Expert | Kirsten Ramsay |
| Expert | Mark Stucy Stuckey |
| Expert | Julie Tatchell |
| Expert | Brenton West |
| Presenter | Jay Blades |
| Narrator | Robert Pugh |
| Production Company | Ricochet Limited |