Main content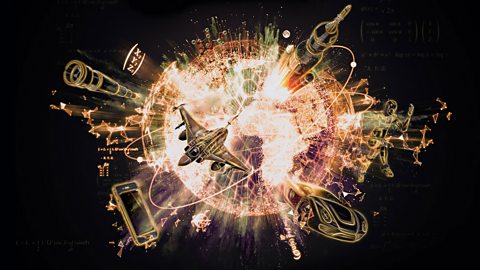 Series 1
The amazing story of how we made the modern world, told through six fantastic inventions. Dramatic, exciting and full of bizarre twists and surprising turns.
'It takes more than one mind to change the world'
In this major new series for BBC Four, co-produced by PBS, Jim Al-Khalili explores the extraordinary story of six remarkable inventions: the aeroplane, the car, the rocket, the smartphone, the telescope and the robot. All are familiar, yet hidden within them are thousands of years of thought, struggle, sacrifice, determination and insight.
The series also reminds us of both the visionaries we are all familiar with and those that many viewers will discover for the first time: Galileo Galilei, Leonardo da Vinci, female pioneers Ada Lovelace and Bertha Benz, and medieval scholar Ibn al-Haytham, to name but a few. We peer into their original notebooks and sketches, and use state-of-the-art experiments, groundbreaking drama and CGI to shed new light on their discoveries.
Each episode explores little-known stories and is packed with incredible ideas, from the beginnings of robotics 2,000 years ago to the Hollywood starlet and inventor who, while trying to defeat the Nazis, made today's mobile network possible. We see time and again how a completely chance discovery led to an application that no-one was expecting.
The result is a mind-blowing, science-led journey through human history, full of unintended consequences and incredible connections. It celebrates the achievements of the some of the greatest minds in human history and reveals how science, invention and technology build on one another to change everything.
On TV
No upcoming broadcasts