Main content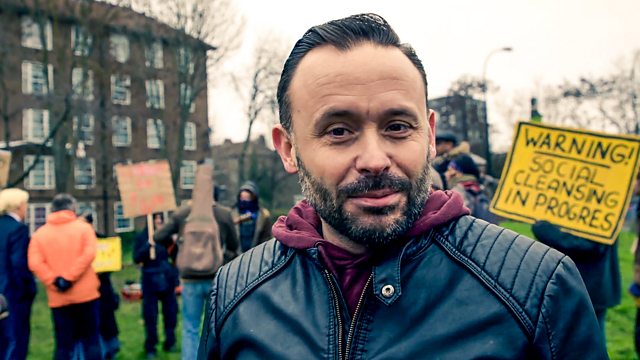 How the Middle Class Ruined Britain
Working-class Tory and Leave-voting comedian Geoff Norcott is on a mission to expose the middle-class hypocrisy that he believes is ruining Britain.
Working-class Tory and Leave-voting comedian Geoff Norcott is on a mission to expose the avocado-munching, middle-class hypocrisy that he believes is ruining Britain.
For Geoff, the Brexit vote showed how one group of people have had their way for far too long. The Middle Classes have been living in their bubble pretending to care about the wider society, while all the time working the system to make sure they stay a few rungs up the ladder.
Geoff believes a classic example of this can be seen in our schools. Middle-class liberals claim to love our comprehensive school system, as it's meant to give everyone an equal start in life. But this is where the frappuccino crowd start to show their true colours as they throw their ethics out of the window and begin to play their games. The Sutton Trust found that the top 500 comprehensive schools in England are highly socially selective, taking just 9.4 per cent of pupils eligible for free school meals – around half the average. Having met a priest who tells him how middle-class parents join their local churches and pretend to believe in God in order to get their kids into the best faith schools, Geoff discovers that singing along to hymns is just the tip of the iceberg. One local authority, Havering Council on the Essex border, even employ a team of super-sleuths to catch parents who come up with all sorts of rubbish to qualify for their preferred school. Geoff is appalled but not surprised - '... nicking the best school places is their version of benefit fraud.'
Geoff sees gentrification as another prime example of middle-class hypocrisy - as young professionals, bars, take over cities and keep ordinary working people at arm's length. In Manchester, the city centre is going through a building boom, with swanky apartments going up everywhere. The majority of these new developments have no 'affordable' housing built, which the leader of the opposition in Manchester City Councils says is due to a policy of 'social cleansing' – something the council denies.
In Deptford, south east London, Geoff meets hard left activists who are opposed to the local council's plans to regenerate the area. Geoff, a Tory, struggles to fit in as he joins the left-wing protesters on a march and then witnesses a bizarre, symbolic salt ceremony. Here, he can see both sides of the argument - how regeneration can improve the look of an area and increase an individual's house price, but at the same time he sees the anguish caused to existing residents who are having their community changes in ways they may not like.
Geoff continues on his journey through the world of dating. He meets the founder of a dating app designed exclusively for the cream of the middle class - people who were privately educated. While he learns that ordering Chateaubriand might impress 'posh girls', he discovers that according to the latest stats, the chances of settling down with someone from a different class is becoming increasingly difficult. And when it comes to politics, Geoff meets Labour MP Gloria De Piero and learns how working-class voices have become marginalised and ignored. Finally, Geoff puts on a private gig for some NUS (National Union of Students) leaders to find out why his style of white working-class comedy doesn't get booked by university campuses. Needless to say his material doesn't go down well.
Clips

Credits
| Role | Contributor |
| --- | --- |
| Presenter | Geoff Norcott |
| Producer | Christian Trumble |
| Director | Christian Trumble |
| Executive Producer | Mike Radford |