Main content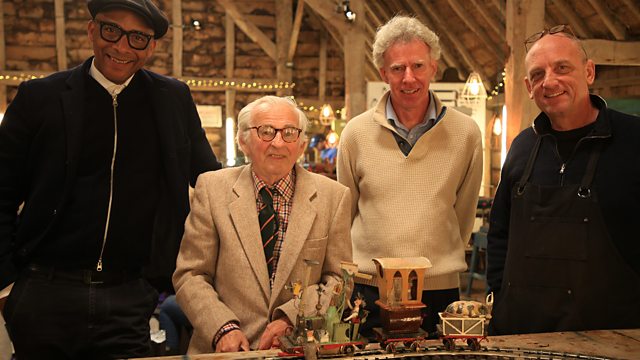 Episode 3
Today in the Repair Shop, the team restore a quirky trainset made by a celebrated cartoonist, a nautical 'ditty box' and a doll that is a precious memento of a much-loved father.
Today in the Repair Shop, Jay Blades and the team bring three treasured family heirlooms, and the memories they hold, back to life.
Bookbinder Christopher Shaw restores a battered, weather-beaten dictionary believed to have been the personal possession of Lord Horatio Nelson, used on board his flagship HMS Victory.
Clockwork maestro Steve Fletcher is thrilled to find himself working on a remarkable, quirky train set designed and built by the celebrated cartoonist and inventor Rowland Emmet. Emmet is best known as the brainbox behind all the inventions in Chitty Chitty Bang Bang, and this trainset bears all the hallmarks of those extraordinary contraptions. Steve has his hands full with this one, so he enlists the help of ceramics conservator Kirsten Ramsay. Can this dream team get the train back up and running?
Furniture restorer Will Kirk takes on the challenging repair of a wooden nautical 'ditty box' – the term used to describe any box used by sailors to store their most prized possessions. This particular specimen survived a shipwreck that claimed its owner's life, but the ravages of time have been less kind. The box is coming apart at the seams, the brasswork is badly deteriorating, and the interior compartments are broken and in bits. It is Will's job to piece the ditty box back together again – and to solve the mystery of the secret compartment that lies within!
And toy restoration experts Amanda and Julie carry out a stunning repair job on a much-loved doll called Mary, the only remaining memento owner Barbara has of her father, who gave it to her as a Christmas present way back in 1947.
Credits
| Role | Contributor |
| --- | --- |
| Expert | Steven Fletcher |
| Expert | William Kirk |
| Expert | Amanda Middleditch |
| Expert | Kirsten Ramsay |
| Expert | Julie Tatchell |
| Expert | Christopher Shaw |
| Expert | Brenton West |
| Presenter | Jay Blades |
| Narrator | Robert Pugh |
| Production Company | Ricochet Limited |