Main content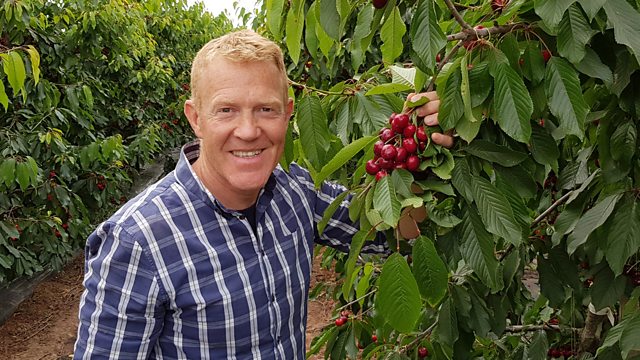 Cornwall
Anita Rani visits the Antony Estate on the Rame Peninsula, John Craven visits an off-grid camp in Truro, and Tom Heap meets farmers caught up in the bovine TB outbreak.
This week the team are in Cornwall. Anita Rani is on the Rame Peninsula, visiting the Antony Estate. It's quiet, calm and full of wildlife, and the managers here are working closely with one of their tenants to keep it that way. It's rather an unexpected relationship, though – with the Navy!
Anita also visits a family dairy farm that has diversified into making Cornish Gouda cheese. John Craven is inland near Truro, at an off-grid camp where children are swapping digital devices for the natural world. Sean Fletcher meets a film director bringing the plight of small rural communities to the big screen. Tom Heap meets the farmers at the heart of the UK's bovine TB outbreak who are choosing not to cull badgers, and Adam Henson helps out with a cherry harvest.
The Antony Estate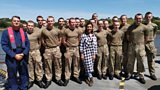 Anita explores the peace and tranquility of the Antony Estate – tucked away alongside the River Lynher on the Rame Peninsula. With gardens and woodlands designed by Humphry Repton it's a haven for wildlife. And the Estate Managers here are working closely with one of their tenants to keep it that way. It's rather an unexpected relationship – with the Navy!  Anita hops aboard HMS Brecon to hear just how this unexpected partnership works.
Camp Kernow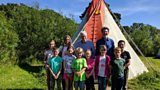 Tearing kids away from screens can be a daily battle for many parents but at Camp Kernow all digital devices are banned and instead, youngsters are encouraged to enjoy all the fun that the natural world has to offer. It's a completely off grid, not for profit activity centre which seeks to inspire and educate children about sustainability through exciting hands-on experiences. John joins in some of the activities on offer, from natural fabric dyeing using plants, to highlight the environmental cost of fast fashion, to stoking a fire with recycled bricks made from the paper towels the children wash their hands with.
Badger Vaccinations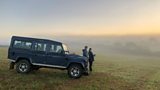 Tom investigates the pros and cons of vaccinating badgers against TB rather than culling.  He visits a project being run by Cornwall Wildlife Trust, the Institute of Zoology and farmers in St Austell.  Tom gets up at the crack of dawn to see how the badgers are vaccinated and hear how blood tests will enable further research.
Cherry Harvest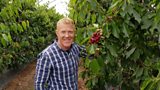 Adam travels to Lower Hope Farm in Herefordshire where their cherry harvest is in full swing. He meets young assistant manager, Ed Turner and gets a guided tour of the cherry picking in the poly-tunnels – learning how to pick the perfect cherry for himself. Adam helps out by clambering aboard a tractor and driving a trailer full of cherries over to Lower Hope's packhouse. He meets Emily Cliff there for a tour of their cherry grader and packaging facilities, before unwinding with a cherry themed picnic in the summer sun.
Bait!
Making a film about the fishing industry was a life-long ambition of Cornish filmmaker Mark Jenkin and the fruits of his labour have finally made it to the big screen. 'Bait' was entirely shot in Cornwall and tells a stark story, rooted in local culture and community and how these marginal places are facing up to a changing world. Essentially, how traditional fishing is a lifestyle under threat. Sean chats to Mark about the film's distinctive style. Captured on a vintage 16mm camera and processed entirely by hand, the film was a real labour of love.
Cornish Gouda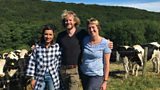 Anita meets the Spierings family, on their dairy farm in Looe. They moved from the Netherlands in 1998 to start their dream of dairy farming here in Cornwall, but due to years of poor milk prices, the family were facing the worst. 
When youngest son, Giel, came home from college to a 'For Sale' sign on the farm gate in 2012, he decided they should diversify into making Cornish Gouda Cheese. Giel was 19 years old when he started the company. Seven years on and he's now making 22 wheels of cheese every day– and the best bit? He buys the milk from his parents' herd to make it!
Credits
| Role | Contributor |
| --- | --- |
| Presenter | Anita Rani |
| Presenter | John Craven |
| Presenter | Sean Fletcher |
| Presenter | Adam Henson |
| Presenter | Tom Heap |
| Executive Producer | William Lyons |
| Series Producer | Joanna Brame |