Main content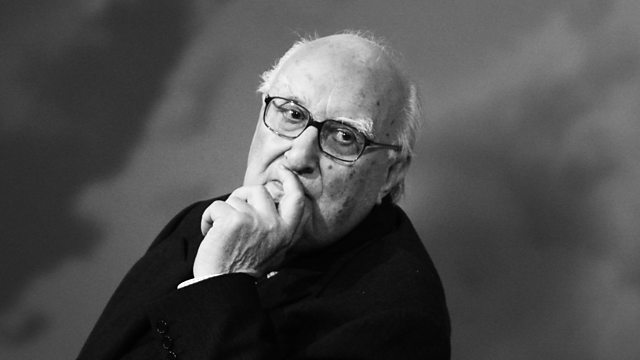 Andrea Camilleri, Johnny Clegg OBE, OIS, Christopher Kraft, Paul Krassner, Professor Rolf Gehlhaar
Matthew Bannister on writer Andrea Camilleri, singer Johnny Clegg, space mission director Christopher Kraft, satirist Paul Krassner and composer Rolf Gehlhaar.
Pictured: Andrea Camilleri
Matthew Bannister on
Andrea Camilleri, the Sicilian writer who created the Inspector Montalbano novels. His literary success began in his late sixties.
Johnny Clegg, the white South African singer and guitarist who confronted the apartheid government by embracing Zulu music and culture.
Christopher Kraft, the founder of mission control for the NASA space programme.
Paul Krassner, the controversial American satirist who coined the word "Yippie".
Professor Rolf Gehlhaar, the electronic music composer and technician who co-founded the Paraorchestra.
Interviewed guest: John Hooper
Interviewed guest: Audrey Brown
Interviewed guest: Ellin Stein
Interviewed guest: Vahakn Matossian-Gehlhaar
Interviewed guest: Nouritza Matossian
Interviewed guest: Adrian Lee
Producer: Neil George
Archive clips from: Foreign Bodies: Inspector Montalbano, Radio 4 02/11/2012; Newsday, BBC World Service 17/07/2019; 13 Minutes to the Moon, BBC World Service, May 2019 (archive courtesy of the Johnson Space Center Oral History Project); Paul Krassner on George W. Bush and Abu Ghraib, MediaBurnArchive 22/07/2019; Paul Krassner on Political Satire in America (2005), Manufacturing Intellect, 22/07/2016; Paul Krassner February 1967 interview by Joe Pyne, 02/04/2013; Stockhausen at 70, Radio 3 21/08/1998.
Andrea Camilleri
Born 6 September 1925; died 17 July 2019, aged 93.
Last Word spoke to John Hooper, Italy and Vatican Correspondent for The Economist.
Johnny Clegg OBE, OIS
Born 7 June 1953; died 16 July 2019, aged 66.
Last Word spoke to Audrey Brown, senior presenter, BBC Focus on Africa.
Chris Kraft
Born 28 February 1924; died 22 July 2019, aged 95.
Paul Krassner
Born 9 April 1932; died 21 July 2019, aged 87.
Last Word spoke to Ellin Stein, expert on American satirists.
Professor Rolf Gehlhaar
Born 30 December 1943; died 7 July 2019, aged 75.
Last Word spoke to his son and business partner Vahakn Matossian-Gehlhaar, his wife Nouritza Matossian, and Adrian Lee, musician and founding member of The British Paraorchestra.