Main content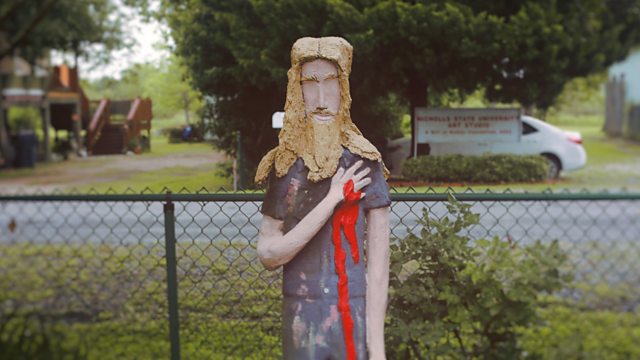 The Angels of the Bayou
In a flood-threatened town in Louisiana, a bricklayer spent 13 years building a sculpture park of religious statues. He then knocked the head off one of his angels and vanished.
Kenny Hill was a bricklayer who arrived in the small town of Chauvin, Louisiana in 1988. He built himself a small home by the side of the bayou and began to make statues. Over the course of 13 years, he created a sculpture park filled with angels, self-portraits, and Americana icons that has been hailed as one of America's great works of 'outsider art'.
Then, one day, Kenny Hill knocked the head off one of his angels and vanished.
Kenny's arrival and his subsequent artistic creations were unusual because Chauvin is a town with a dwindling population. The coastal land loss affecting much of south-eastern Louisiana means that Chauvin is gradually disappearing into the Gulf of Mexico. The hurricanes are getting more and more severe and, with each passing month, residents are noticing more water creeping into their front yards. The younger generations are moving further north, leaving the future of the town in doubt.
We meet the residents of Chauvin who knew Kenny Hill - and attempt to find out what happened to him after he left the town. And we examine what his artwork and legacy have come to mean for a community that is being eroded.
Producer: Ant Adeane
An SPG production for BBC Radio 4
Last on
Broadcasts