Main content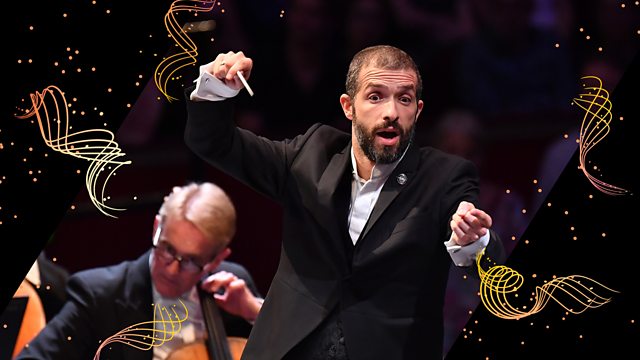 Live at the BBC Proms. The BBC Philharmonic and Omer Meir Wellber perform Ben-Haim, Schumann, Schoenberg and, with Yeol Eum Son, Mozart's Piano Concerto No 15 in B flat, K450.
Live at BBC Proms: The BBC Philharmonic and Omer Meir Wellber in music by Ben-Haim, Schumann and Scoenberg. They are joined by Yeol Eum Son for Mozart's Piano Concerto No.15.
Live from the Royal Albert Hall, London
Presented by Sarah Walker
Mozart: Piano Concerto No.15(K450)
Ben-Haim: Symphony No.1
c.8.30pm
Interval: Proms Plus: Can music heal the mind and body? Music in hospitals used to be heard only in lifts or on patients' headphones. Now, the NHS is using music therapy in innovative clinical programmes. New Generation Thinker Daisy Fancourt discusses her award winning research with a fellow researcher. Chaired by actor, musician and New Generation Thinker Naomi Paxton. Producer Luke Mulhall
Schoenberg: Five Pieces Op.16
Schumann: Symphony No.4
Yeol Eum Son (piano)
BBC Philharmonic
Omer Meir Wellber (conductor)
Omer Meir Wellber makes his Proms debut as the BBC Philharmonic's Chief Conductor. South Korean pianist Yeol Eum Son joins them as soloist in Mozart's Piano Concerto No.15 (K450) with its intricate wind writing and lively hunting-horn finale. Schumann's mould-breaking Fourth Symphony, with its opening journey from darkness to blazing light, is paired with Schoenberg's revolutionary Five Orchestral Pieces and Paul Ben-Haim's 1940 Symphony No.1 - an emotive musical statement at a time of international conflict.
Featured in...
Journey into emotion with PSB, Sheku, Benedetti, Angélique Kidjo, Nina Simone, Greenwood

We broadcast more live and specially-recorded concerts and opera than any other station.