Main content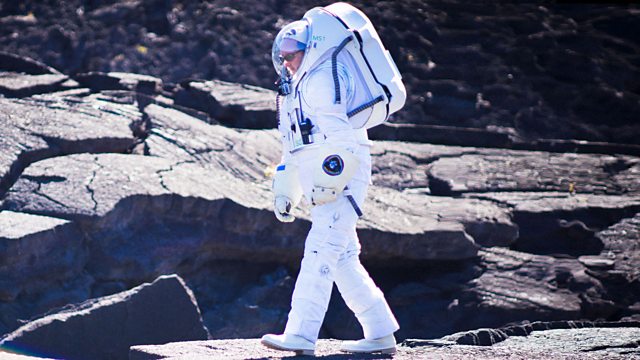 Fly me to the Moon
Take a trip to the Moon, fifty years on from Apollo 11's flight and landing. Zawe Ashton and Peter Marinker read transportive poetry from Alice Oswald and Archibald MacLeish.
Fifty years ago, on July 20th 1969, humans landed on the moon for the very first time. Or was it in fact the first time?
Some say that adventurers and inventors have been making the trip to the moon for centuries. Just ask Edgar Allen Poe, who documented Hans Phall's journey by hot air balloon. Or listen to Leoš Janáček, with his opera celebrating Mr Brouček, who made it all the way on a drunken dream. Or read Italo Calvino, whose classic character Qfwfq climbs up there to harvest lunar milk.
In this edition of Words And Music you too can experience the sensation of ascending to the moon and taking a moonwalk, beholding all the wonders lying in wait on the dark side. Your companions for the expedition are today's readers: Zawe Ashton and Peter Marinker.
Readings:
Orlando Furioso - Ludovico Ariosto
Stoned Moon Drawing - Robert Rauschenberg
Moon Palace - Paul Auster
Night - Etel Adnan
The Unparalleled Adventure Of One Hans Phall - Edgar Allen Poe
I am the moon, and you are the man on me - Claire Askew
A True Story - Lucian of Samosata
The Man In The Moone - Francis Godwin
Thirteen Haiku - Yosa Buson
Lady Chatterley's Lover - DH Lawrence
There's a moon inside my body - Kabir
Letter - CS Lewis
Voyage To The Moon - Archibald MacLeish
Various Portents - Alice Oswald
Aniara - Harry Martinson
Moonset - Carl Sandburg
Bad Moon - Claire Askew
Produced by Jack Howson.
A Reduced Listening production for BBC Radio 3.
Music Played
Timings (where shown) are from the start of the programme in hours and minutes
Ludovico Ariosto translated by William Stewart Rose - Orlando Furioso

Read by Zawe Ashton

Robert Rauschenberg - Stoned Moon Drawing

Read by Peter Marinker

Paul Auster - Moon Palace

Read by Zawe Ashton

Etel Adnan - Night

Read by Zawe Ashton

Edgar Allan Poe - The Unparalleled Adventure Of One Hans Phall

Read by Peter Marinker

Eudora Welty - One Writer's Beginnings

Read by author (BBC, 1987)

Claire Askew - I am the moon, and you are the man on me

Read by Peter Marinker

Edgar Allan Poe - The Unparalleled Adventure Of One Hans Phall

Read by Zawe Ashton

Lucian of Samosata translated by A.M. Harmon - A True Story

Read by Peter Marinker

Francis Godwin - The Man in the Moone

Read by Peter Marinker

Space Kids CIC, Jessie Lawson (producer)

A Kid's Best Friend

Yosa Buson translated by Cheryl A. Crowley - Thirteen Haiku

Read by Peter Marinker

DH Lawrence - Lady Chatterley's Lover

Read by Zawe Ashton

Kabir translated by Rabindranath Tagore - There's a moon inside my body

Read by Peter Marinker

CS Lewis - Letter to sister Penelope (21 October 1946)

Read by Zawe Ashton

Archibald MacLeish - Voyage To The Moon

Read by Zawe Ashton

Italo Calvino - The Distance Of The Moon

Read by Peter Marinker

Alice Oswald - Various Portents

Read by Zawe Ashton

Harry Martinson translated by Stephen Klass and Leif Sjöberg - Aniara

Read by Peter Marinker

Carl Sandburg - Moonset

Read by Peter Marinker

Claire Askew - Bad Moon

Read by Zawe Ashton