Main content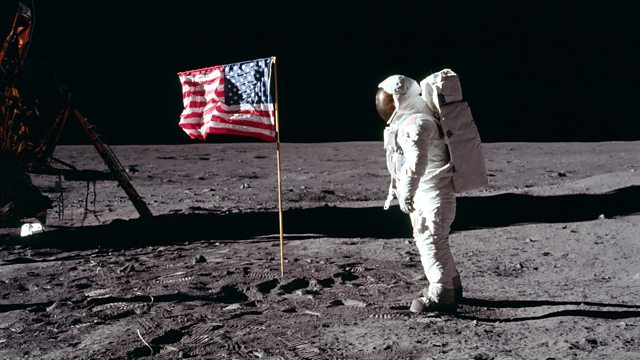 Magnificent Desolation (Part Two)
The success of Apollo 11 suggested the beginning of a new age of exploration. Instead, the lunar landing proved to be the highpoint of manned missions into space.
Viewers from around the world watched the flickering black-and-white footage from a camera placed on the module showing Armstrong gingerly stepping down its ladder. 'OK, I'm going to step off the ladder now,' Armstrong said. 'That's one small step for man, one giant leap for mankind.' Fifteen minutes later, Aldrin followed. Transparent, ghostly images of the suited figures projected back to Earth where crowds cheered, wept and fell speechless at the awe-inspiring sight of their fellow human beings on the moon.
The mission had one remaining hurdle: the ascent stage. With only one chance to fire the lunar module's engine to safely reach Apollo 11, tension built once more. On 24 July 1969, to the intense relief of all involved, the crew splashed down in the Pacific Ocean. Despite the public excitement leading up to and immediately after Apollo 11, interest in space vaporised with shocking rapidity. Kennedy's challenge to the nation, to its scientists and to its pilots had been met - an American had walked on the moon before 1970. Rather than being a spark for further exploration, as von Braun had dreamed, the moon landing was the crowning jewel in the Cold War space race, commanding epic focus, resources and motivation.
A film By Robert Stone.
A Robert Stone Production for American Experience WGBH/PBS in association with Arte France.
More episodes
Next
You are at the last episode