Main content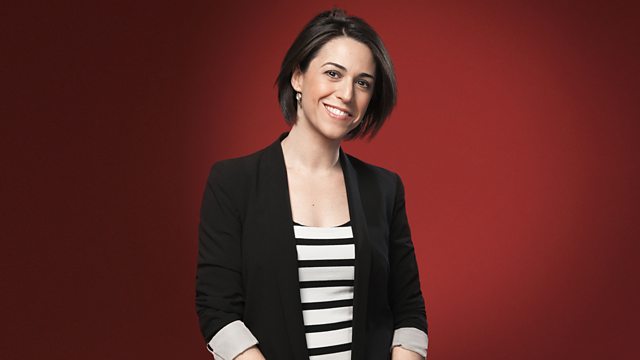 Zosha di Castri, Dame Emma Kirkby, Haydn's Gypsy Rondo Trio
Refresh your morning with a great selection of classical music, presented by Suzy Klein. Plus guest, Dame Emma Kirkby.
Suzy Klein with Essential Classics - the best in classical music.
0930 Your ideas for companion pieces on the Essential Classics playlist.
1010 Our Classical Century - 100 key moments in the last century of classical music.
1050 Cultural inspirations from our guest of the week, the soprano Dame Emma Kirkby.
1130 Slow Moment - time to take a break for a moment's musical reflection.
Last on
Music Played
Dora Pejačević

Overture in D minor, Op 49

Orchestra: Brandenburgisches Staatsorchester Frankfurt. Conductor: Howard Griffiths.

Felix Mendelssohn

Cello Sonata No. 1 in B-Flat Major, Op. 45, MWV Q 27: III. Allegro assai

Performer: Johannes Moser. Performer: Alasdair Beatson.

Mendelssohn & Mendelssohn-Hensel: Works for Cello & Piano.
PENTATONE.
10.

Giovanni Pierluigi da Palestrina

Stabat Mater a 8

Choir: The Sixteen. Director: Harry Christophers.

Edvard Grieg

Symphonic Dance, Op 64 No 2

Orchestra: Gürzenich-Orchester Köln. Conductor: Dmitri Georgievich Kitayenko.

Sibelius . Grieg.
Oehms Classics.
005.

Joseph Haydn

Piano Trio in G major, H XV 25, 'Gypsy' (3rd mvt)

Ensemble: Trio Fontenay.

Haydn: Piano Trios: Trio Fontenay.
Teldec.
9.

Antonio Vivaldi

Concerto in F major RV.574

Performer: Gottfried von der Goltz. Orchestra: Freiburg Baroque Orchestra.

Vivaldi@ Dresden Concertos/Goltz.
OPUS.
14-16.

Antonín Dvořák

Song to the Moon (Rusalka)

Singer: Karita Mattila. Orchestra: Finnish Radio Symphony Orchestra. Conductor: Jukka‐Pekka Saraste.

Karita Mattila Live in Helsinki: Finnish Radio Symphony Orchestra/Saraste.
Ondine.
2.

Pyotr Ilyich Tchaikovsky

Piano Sonata in G major, Op 37 (4th mvt)

Performer: Freddy Kempf.

Tchaikovsky: The Seasons / Grand Sonata.
BIS.
004.

Witold Lutosławski

Little Suite

Orchestra: North German Radio Symphony Orchestra. Conductor: Krzysztof Urbański.

Arcangelo Corelli

Concerto grosso in F major Op.6`2

Ensemble: The English Concert. Conductor: Trevor Pinnock.

Grace Williams

Hiraeth (Yearning)

Performer: Edward Witsenburg.

Harp Music from Six Centuries.
Globe.
20.

Maurice Ravel

Tzigane

Performer: Maxim Vengerov. Orchestra: Philharmonia Orchestra. Conductor: Sir Antonio Pappano.

Johann Strauss II

Roses from the South, Op 388

Music Arranger: Arnold Schoenberg. Ensemble: Linos Ensemble. Performer: Ryoko Morooka.

Catriona Price

Cheeky Vimto

Ensemble: Fara.

Muzio Clementi

Piano Sonata in E flat major, Op.12 No.4

Performer: Howard Shelley.

Gustav Holst

Dance of Spirits of Fire (The Perfect Fool Op.39)

Orchestra: Royal Philharmonic Orchestra. Conductor: Malcolm Sargent.

Hector Berlioz

Benvenuto Cellini (Overture)

Orchestra: Staatskapelle Dresden. Conductor: Colin Davis.

Hector Berlioz - Overtures.
BMG Classics.
7.

Franz Schubert

An den Mond, D 296

Music Arranger: Max Reger. Singer: Stefanie Irányi. Orchestra: Deutsche Staatsphilharmonie Rheinland‐Pfalz. Conductor: Gregor Bühl.

Max Reber - Orchestral Songs.
Capriccio.
019.

Johann Sebastian Bach

Cello Suite No.4 in E flat major, BWV.1010 (Sarabande)

Performer: Alban Gerhardt.

Bach: Cello Suites.
Hyperion.
4.

Richard Rodgers

Carousel Waltz (Carousel)

Orchestra: The New London Orchestra. Conductor: Ronald Corp.

American Light Music Classics.
Hyperion.
22.

Camille Saint‐Saëns

Introduction and Royal March of the Lion (Carnival of the Animals)

Performer: Martha Argerich. Performer: Lilya Zilberstein. Performer: Andrey Baranov. Performer: Michael Guttman. Performer: Lyda Chen. Performer: Alexandre Debrus. Performer: Enrico Fagone.

Martha Argerich and Friends Live from the Lugano Festival 2013.
WARNER CLASSICS.
10.

Jean Sibelius

Impromptu, Op.24 No.1

Performer: Håvard Gimse.

Sibelius: Piano Music Vol.1: Havard Gimse.
Naxos.
010.

Sergey Rachmaninov

3 Symphonic dances Op.45 (no.2)

Orchestra: Berlin Philharmonic Orchestra. Conductor: Sir Simon Rattle.
Broadcast

The Classical Companion Collection