Main content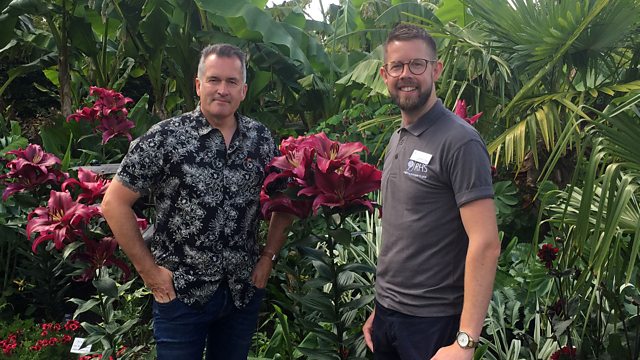 RHS Garden Wisley: Part One
Kathy Clugston and the gardening experts are at RHS Garden Wisley.
Kathy Clugston and the gardening experts are at RHS Garden Wisley. Matthew Pottage, Christine Wilson and Matthew Wilson answer this week's questions from gardening enthusiasts.
The panellists discuss black fly, offer planting suggestions for shady areas, and advise on growing Luffa. They also talk about how they were inspired to start gardening.
Away from the questions, Matthew Wilson catches up with Matthew Pottage, three years into his role as Curator of RHS Garden, Wisley to see what he's been up to.
Producer: Laurence Bassett
Assistant Producer: Jemima Rathbone
A Somethin' Else production for BBC Radio 4
Plant list
Questions and time codes are below.
Where applicable plant names are listed.
Q1 – I've tried everything to get rid of black fly from my broad beans – is there anything I can do? (1 minute, 40 seconds)
Q2 – What's best to follow tomatoes in my veg patch? (5 minutes 43 seconds)
Q3 – Do you have any advice for growing Luffa? (7 minutes 28 seconds)
Q4 – Climbing hydrangea that was affected badly by the frost last year; it has re-budded but the buds are very tiny. Is there any hope or should we think about replacing it? And if so, any suggestions to replace it – very dry, sunny conditions. (9 minutes 34 seconds)
Christine – Any annual climbers like
Eccremocarpus scaber (Chilean glory-vine),
Cobaea scandens (Cup and saucer vine).
Feature (12 minutes 40 seconds)
Q5 – I have a 50-year old weeping silver birch tree which has died. What should I do?
(20 minutes 52 seconds)
Q6 – 30ft by 6ft (9m x 1.8m) south facing but under trees – could the panel recommend some colour shade-loving plants?
(22 minutes 40 seconds)
Christine – Tellima,
Lamium,
Cyclamen hederifolium (for autumn) and Cyclamen coum (for spring)
Scilla
Puschkinia
Anemone
Ranunculus
Schizostylis
Matthew Pottage – Fatsia japonica (Spider's web)
Eucryphia - nymansay
Hosta – Hadspen blue or Empress Wu
Matthew Wilson – Silene – Fimbriata
Deschampsia – Schottland
Japanese anemones
Persicaria amplexicaulis Alba
Q7 – Is there anything that I can plant now (mid-July) from seed that will give me a good display around mid-September?
(27 minutes 20 seconds)
Matthew Wilson – Tithonia
Dahlia
Amicia zygomeris
Christine – Calendula
Correspondence – trees
Matthew Wilson – Cherry tree 'Sunset Boulevard'
Crataegus pedicellata
Wisteria – Black dragon
Matthew Pottage – Cornus kousa – 'Chinensis'
Crab apple – Malus 'Butterball'
Conifer – Chamaecyparis lawsoniana 'Little Spire'
Q8 – I am on my third Embothrium 'Chilean flame' tree which is now losing its leaves. What can I do to keep it alive?
(34 minutes 2 seconds)
Q9 – Who or what inspired your love of gardening and how can we encourage younger generations to garden?
(36 minutes 58 seconds)