Main content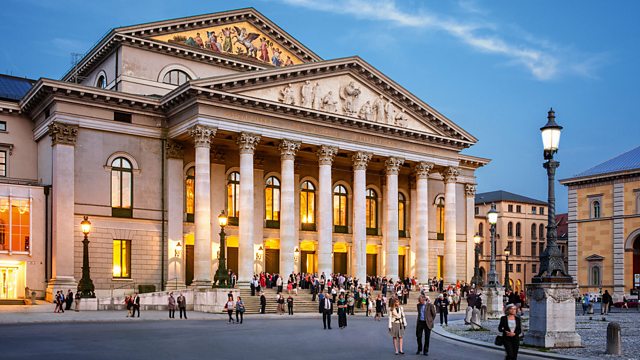 Afternoon Opera Matinée: Smetana's The Bartered Bride
Smetana's The Bartered Bride, recorded at the Bavarian State Opera, Munich.
Kate Molleson introduces a recording of Smetana's The Bartered Bride, recorded at the Bavarian State Opera, Munich.
Kruschina/Krušina.............Oliver Zwarg (baritone)
Kathinka/Ludmila..............Helena Zubanovich (soprano)
Marie/Mařenka..................Selene Zanetti (soprano)
Micha/Mícha.......................Kristof Klorek (bass)
Agnes/Háta.........................Irmgard Vilsmaier (mezzo-soprano)
Wenzel/Vašek.....................Wolfgang Ablinger-Sperrhacke (tenor)
Hans/Jeník...........................Pavol Breslik (tenor)
Kezal/Kecal.........................Günther Groissböck (bass)
Springer/Principál............Ulrich Ress (tenor)
Esmeralda, a dancer........Anna El-Khashem (soprano)
Muff, a comedian dressed as an Indian.............Oğulcan Yilmaz (bass-baritone)
Bavarian State Opera Chorus
Sören Eckhoff (chorus master)
Bavarian State Orchestra
Tomáš Hanus (conductor)
4.25p.m.: Janacek Quartet no. 1 (The Kreutzer Sonata) for strings, arr. Richard Tognetti for string orchestra
BBC National Orchestra of Wales
Lesley Hatfield (director)
Last on

SYNOPSIS
FIRST ACT
It is spring and the villagers are celebrating heartily at the church fair. Praising the joys of young love, they do, however, warn of the monotony that can appear all too quickly in married life. Marie bemoans to her lover Hans that she, at the behest of her parents, shall be wedded to an unknown man today. Hans attempts to calm her and encourages her to resist her parents' wishes. Marie feels no better, but swears her love for Hans. She would remain his forever, if only her parents did not force her to wed another man. Hans' placidity leads Marie to the belief that his love for her is not serious. She asks her lover about his origins and background, and he replies by saying that he is from a prosperous family. After the death of his mother, his father took a new wife and Hans was banished from the court. Hans laments his mother's passing, and Marie comforts him. The young couple reassure each other of their reciprocal love. Marie's parents, Kruschina and Kathinka, consult the marriage broker Kezal. He praises his own style of mediation and ensures Marie's parents of the legitimacy of planning Marie's wedding without her consent. Kezal reminds Kruschina that years ago he already promised Tobias Micha that his son may marry his daughter. Kathinka scolds her man for agreeing to give away their daughter without her consent. Marie will not back down. While Kruschina and Kezal press for the marriage, Marie reveals her love for Hans. She does not accept the contract signed between Kezal and her father. Kezal suggests that Kruschina meet Tobias Micha so that the two fathers may discuss the situation. Meanwhile, the villagers continue to drink and dance.
SECOND ACT
As the men enjoy their beer, Hans drinks to his happiness. Kezal swears by the value of money. Tobias Micha's son Wenzel wants to free himself from his mother's contract and collect his bride Marie, clearly out of his depth. He meets Marie, who recognises him instantly as her chosen groom. She warns him of his future bride, her love for another and how she will torment him to death. She invents a secret admirer for him and entices him to make a secret oath: Wenzel shall renounce Marie as his bride and never go near her again. Kezal attempts to separate Hans from Marie. Once again, the marriage broker praises money as a higher commodity than love and promises Hans another woman with great wealth. Hans resists, but Kezal offers him money to leave Marie free for Tobias Micha's son. For 300 florins, Hans consents to such a worded contract. Secretly, Hans celebrates: he is now sure he has laid the path for his marriage to Marie. Kezal informs the villagers of the contract between him and Hans. That somebody could sell their bride for money disgusts them and Kruschina.
THIRD ACT
A travelling circus interrupts the musings of the deathly-saddened Wenzel. The circus manager announces the highlight of the programme: the dancer Esmeralda, an Indian chief, a cannibal and, as the main attraction, a bear from America. However, Muff, the Indian impersonator, informs the manager that the bear impersonator got drunk in a bar and is unable to perform. A replacement cannot be found, as the bear costume fits no one. Then they notice Wenzel, who has the correct size. The circus manager senses his chance and invites Wenzel to join the circus troupe, with the promise that were he to perform as the bear and dance in costume, he would receive Esmeralda as his wife. Wenzel quickly forgets his reservations that he cannot dance, and his mother's reproaches for such attempts, when Esmeralda makes eyes at him. In contrast to his parents, Agnes and Tobias Micha, Wenzel wishes to know nothing more of his betrothal to Marie. Marie is appalled at hearing of Hans' alleged betrayal, and Kezal confirms her fears by showing her the contract signed by Hans. Kathinka and Kruschina suggest that their daughter become engaged to Wenzel. He wishes to marry her immediately, as he recognises her as the charming girl who made him renounce his oath. Marie laments her lost happiness with Hans. She wishes to know no more from him and allows him to speak no words when he tries to explain his contract with Kezal. Kezal now finally wants to enact the sale of the bride. Marie is shocked that Hans is in agreement. To everyone's amazement, Tobias Micha recognises his lost son in the shape of Hans. Hans' plan begins to bear fruit: the fact he is Tobias Micha's son means that he has, in fact, not sold Marie to another. Marie must now decide between him and Wenzel, a decision she finds easy. She chooses Hans. The parents of the happy couple laugh at Kezal's failure, while he bemoans his defeat. Suddenly, there are news about an escaped bear. Wenzel can be recognised under the bear costume, and is ridiculed by everyone and scolded by his mother Agnes through shame. Tobias Micha reconciles himself with his son, and there is now nothing to stand in the way of the marriage between Hans and Marie.
Broadcast

Featured in...
We broadcast more live and specially-recorded concerts and opera than any other station.