Main content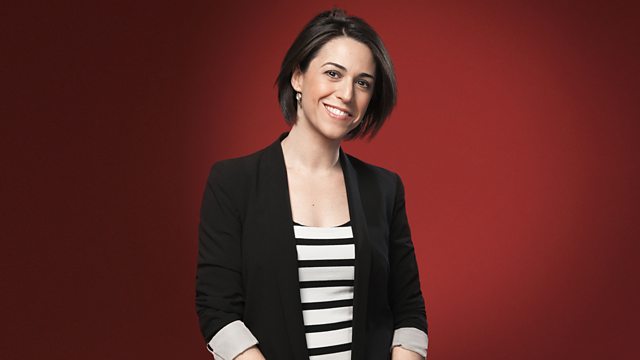 Dame Emma Kirkby, Sheku Kanneh-Mason at the Royal Wedding, Purcell's Sweeter than Roses
Refresh your morning with a great selection of classical music, presented by Suzy Klein. Plus guest, Dame Emma Kirkby.
Suzy Klein with Essential Classics - the best in classical music.
0930 Your ideas for companion pieces on the Essential Classics playlist.
1010 Our Classical Century - 100 key moments in the last century of classical music.
1050 Cultural inspirations from our guest of the week, the soprano Dame Emma Kirkby.
1130 Slow Moment - time to take a break for a moment's musical reflection.
Last on
Music Played
Maurice Ravel

Fanfare (L'éventail de Jeanne)

Orchestra: City of Birmingham Symphony Orchestra. Conductor: Sir Simon Rattle.

Marc‐Antoine Charpentier

Les Plaisirs de Versailles (conclusion)

Ensemble: Boston Early Music Festival Ensemble. Director: Paul O'Dette. Director: Stephen Stubbs.

Louise Farrenc

Symphony no. 2 in D major (4th mvt)

Orchestra: European Soloists, Luxembourg. Conductor: Christoph Koenig.

Farrenc: Symphonies Nos. 2 & 3.
Naxos.
4.

Camille Saint‐Saëns

Oboe Sonata, Op. 166

Performer: Alex Klein. Performer: Phillip Bush.

Twentieth Century Oboe Sonatas.
Cedille.
17-19.

Henry Purcell

Sweeter than roses

Performer: Benjamin Britten. Music Arranger: Benjamin Britten. Singer: James Bowman.

Maurice Ravel

Introduction and Allegro arr for two pianos

Performer: Martha Argerich. Performer: Alessandro Stella.

Franz Schubert

Piano Quintet in A major, D667 'The Trout': I. Allegro vivace

Performer: Emil Grigoryevich Gilels. Performer: Rainer Zepperitz. Ensemble: Amadeus Quartet.

Antonio Vivaldi

Violin Concerto in E major, RV 265

Ensemble: The English Concert. Conductor: Trevor Pinnock.

Francis Poulenc

Agnus Dei (Mass in G major)

Choir: Tenebrae. Conductor: Nigel Short.

Figure Humaine: Choral Works by Francis Poulenc.
Signum.
5.

Domenico Scarlatti

Sonata in E major Kk.206

Performer: Murray Perahia.

Murray Perahia plays Handel and Scarlatti.
Sony Classical.
19.

Hector Berlioz

Le spectre de la rose (Les nuits d'ete)

Singer: Karen Cargill. Orchestra: Scottish Chamber Orchestra. Conductor: Robin Ticciati.

Hector Berlioz: Les nuits d'été & La mort de Cléopâtre.
Linn.
2.

George Frideric Handel

As with rosy steps the morn (Theodora)

Singer: Lorraine Hunt Lieberson. Orchestra: Orchestra of the Age of Enlightenment. Director: Harry Bicket.

Handel: Arias: Lorraine Hunt Lieberson.
Avie.
2.

Jocelyn Pook

How sweet the moonlight (The Merchant of Venice)

Singer: Andreas Scholl. Performer: Siobhán Armstrong. Performer: Elizabeth Kenny. Ensemble: Baroque String Quartet.

Michel Pignolet de Montéclair

Pan et Syrinx - cantata for voice and bc: no.7; La Deesse nous apelle [air]

Singer: Emma Kirkby. Ensemble: London Baroque.

Georges Auric

Ouverture

Conductor: Antal Doráti. Orchestra: London Symphony Orchestra.

Frédéric Chopin

2 Nocturnes Op.62 (no.1 in B major)

Performer: Maria João Pires.

Chopin: Piano works: Maria Joao Pires/Pavel Gomziakov.
Deutsche Grammophon.
5.

Wolfgang Amadeus Mozart

Horn Concerto No 4 in E flat major, K 495

Performer: Anthony Halstead. Orchestra: Academy of Ancient Music. Conductor: Christopher Hogwood.

Mozart: The Horn Concertos - Halstead, The Academy of Ancient Music.
Decca.
8.

Johannes Brahms

Symphony No 3 in F major, Op 90 (3rd mvt)

Orchestra: Chamber Orchestra of Europe. Conductor: Paavo Berglund.

Brahms: Symphonies Nos. 1-4 (Complete): COE, Berglund.
Ondine.
1-4.

Johann Theile

Nun ich singe, Gott ich knie

Singer: Dorothee Mields. Singer: Paul Agnew. Ensemble: Lautten Compagney. Director: Wolfgang Katschner.

Wie Schon Leuchtet Der Morgenstern.
DEUTSCHE HARMONIA MUNDI.
22.

Jonathan Dove

Piano Quintet (3rd mvt)

Performer: Charles Owen. Ensemble: Sacconi Quartet.

Franz Schubert

Moments Musicaux, D 784 (No 4 in C sharp minor)

Performer: Sir András Schiff.

Great Pianist of the 20th Century: Andras Schiff.
Philips.
10.

Franz Schubert

Moments musicaux, D 780 (No 5 in F minor)

Performer: Sir András Schiff.

Great Pianist of the 20th Century: Andras Schiff.
Philips.
11.
Broadcast

The Classical Companion Collection