Main content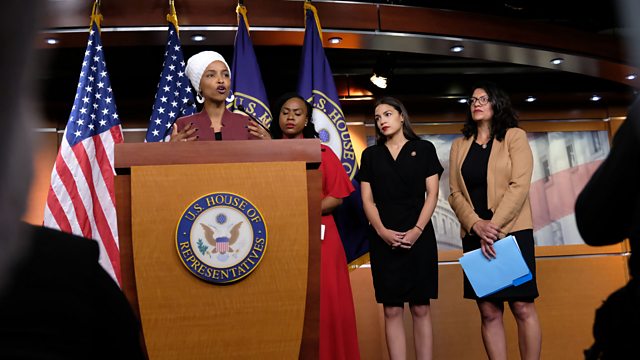 The Squad, NI Abortion, Jobs
The programme that offers a female perspective on the world
We'll be taking a closer look at The Squad: the Congresswomen at the centre of Twitter comments made by President Trump. Who are Alexandra Ocasio Cortez, Rashida Tlaib, Ayanna Pressley and Ilhan Omar? Why are these four politicians of colour causing such a stir, not just with Republicans but also in their own Democratic Party? Professor of Women's Gender & Sexuality Studies, Wendy Smooth and journalist for USA Today and Washington Post and a former House Committee Republican Counsel, Sophia Nelson join Jenni.
Could the law around abortion and same-sex marriage in Northern Ireland change this week? We find out with Jayne McCormack, BBC political reporter in Belfast. Today the House of Lords decides on the Northern Ireland Bill which includes recent amendments to these two important social issues.
The Institute of Public Policy Research (IPPR) Centre for Social Justice says women's work is most at threat from advances in automation, but it also say robots and AI could create opportunities to make things better for women. Jenni 's joined by Carys Roberts, Chief Economist at the IPPR and author of The Future is Ours: Women, Automation And Equality In The Digital Age.