Main content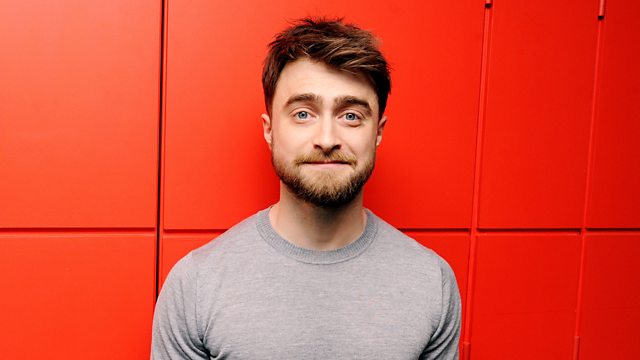 Daniel Radcliffe and The Why Workshop
Daniel Radcliffe joins Zoe on the phone from New York. Plus it's The Why Workshop, and Zoe quizzes the QI Elves with more of your wonders and ponders.
Wake up and embrace the day with Zoe Ball! Actor Daniel Radcliffe joins Zoe on the phone from New York to talk about Playmobil: The Movie, his upcoming episode of Who Do You Think You Are? and his early appearance on Live & Kicking!
It's The Why Workshop, and Zoe quizzes the QI Elves with more of your puzzling questions. Today James Elf and Alex Elf answer; when did clapping become a thing? Who first put pineapple on pizza? And, why do our voices change as we get older?
Plus, we here the results of Richie's starring performance as Mufasa in the production of The Lion King at St James primary school in Wiltshire.
Along with Tina Daheley on news, Richie Anderson on travel and Mike Williams on sport, Zoe and the team have the best start to your morning. With celeb guests, quizzes, headlines, tunes chosen by listeners and more music than you can shake a glitterball at!
There's also weather with Matt Taylor who's live from The Donkey Sanctuary in Sidmouth, BBC Ulster's Joel Taggart looks forward to The Open in Northern Ireland and a Pause For Thought from journalist Remona Aly as Zoe entertains the nation with fun for the family!
Last on
Music Played
David Bowie

Let's Dance

David Bowie - Best Of Bowie.
EMI.

Liam Gallagher

Shockwave

Why Me? Why Not..
Warner Records.

Daryl Hall & John Oates

Maneater

Looking Back - The Best Of Hall & Oat.
BMG.

Jax Jones

&

Years & Years

Play

Kelly Rowland

Daylight (feat. Travie McCoy)

(CD Single).
Sony BMG.
1.

Ricky Martin

Livin' La Vida Loca

Craig David

When You Know What Love Is

(CD Single).
Insanity Records.

Stereophonics

Have a Nice Day

Now 49 (Various Artists).
Now.

Taylor Swift

You Need To Calm Down

Lover.
Universal Motown Records.

ABBA

Dancing Queen

Abba Gold (40th Anniversary Edition).
Polar.
001.

ABBA

The Winner Takes It All

Abba Gold (40th Anniversary Edition).
Polar.
008.

ABBA

Chiquitita CLIP

Abba Gold (40th Anniversary Edition).
Polar.
011.

Forrest

Rock The Boat

Sealed With A Kiss (Various Artists).
BMG.

Aretha Franklin

Respect

Aretha Franklin - Queen Of Soul.
Atlantic.

Eurythmics

Sweet Dreams (Are Made Of This)

Our Friends Electric (Various Artists.
Telstar.

P!nk

Can We Pretend (feat. Cash Cash)

Hurts 2B Human.
RCA Records.

Michael Gray

The Weekend

(CD Single).
Eye Industries.

Marshmello

Here With Me (feat. CHVRCHES)

Tina Turner

The Best

Tina Turner - Simply The Best.
Capitol.

Jack Savoretti

Youth And Love (feat. MIKA)

(CD Single).
BMG Rights Management (UK) Ltd.

Mark Morrison

Return Of The Mack

Maroon 5

Girls Like You

(CD Single).
Interscope Records.

Soul II Soul

Back to Life (However Do You Want Me) (feat. Caron Wheeler)

More Greatest Hits Of 80's (Various).
Disky.

The Housemartins

Happy Hour

Now That's What I Call Quite Good.
Go! Discs.

Elvis Presley

Burning Love

Presley - The All Time Greatest Hits.
RCA.

Lighthouse Family

Light On

Blue Sky In Your Head.
Polydor.

Starship

Nothing's Gonna Stop Us Now

Fantastic 80's - 3 (Various Artists).
Sony Tv/Columbia.
1.

Artful Dodger

&

Romina Johnson

Movin' Too Fast

Huge Hits 2000 (Various Artists).
Global Television.
Pause For Thought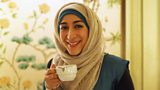 From Remona Aly, Freelance journalist and editor:
Last weekend, I was sardined in a box room with a glitterball, a Tina Turner wig and 15 unhinged women. We charged at karaoke like bulls to a red rag, to mark a best friend's milestone birthday. 
Before we'd let loose with terrifically appalling versions of 'Sweet Child o' Mine', 'Mr Brightside' and 'Nothing's Gonna Stop Us Now', our female troupe had taken some vows together over tea and cake. "Dearly beloved", I addressed the congregation of uni friends, colleagues, and kindred spirits, "we are gathered here today to join this woman, with all these women." 
There followed a series of wedding style speeches, running mascara, and bursts of laughter as we celebrated the milestone through the marriage of friendship, love and sisterhood. 
That night, I thought of how life's milestones are places you do not reach on your own. Back in the day, they were used as markers to tell you how far you'd come, reassure you that you're on the right path, and point you towards your next destination. That came home to me as I looked around the room, and realised how milestones are measured in true friendships. 
It was due to a profound friendship, that Rumi, a bookish Muslim scholar, turned into a universal love poet, after he met Shams Tabrizi, a wandering holy man, who was to become his mentor and greatest friend. Eight centuries later, I feel that Shams is the reason that Rumi is one of the world's bestselling poets.
Friends can do that to you. They save you, they lift you, they can shape you and even your legacy. And when it's a friend of mine who is succeeding, I feel their achievement becomes my own too. As Rumi writes, probably addressing Shams, "The beauty you see in me, is a reflection of you. Friend, our closeness is this: anywhere you put your foot, feel me in the firmness under you."
I think of the friends I've had in the past, the ones I hold now, the ones I'm yet to meet, and I know they will always be part of the path I tread, and the milestones we will reach together. Like last weekend when I sang in my awful karaoke voice to my beloved friend on her birthday: we can build this thing together, stand this stormy weather, nothing's gonna stop us now.
Broadcast