Main content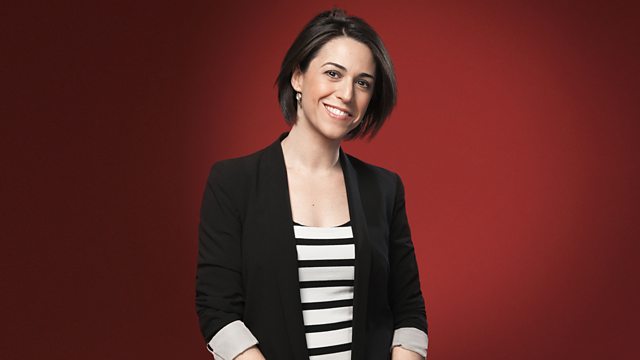 Essential Classics with Suzy Klein: Judith Weir, Dame Emma Kirkby, Boccherini's La Ritirata di Madrid
Refresh your morning with a great selection of classical music, presented by Suzy Klein. Plus guest, Dame Emma Kirkby.
Suzy Klein with Essential Classics - the best in classical music.
0930 Your ideas for companion pieces on the Essential Classics playlist. This morning's starter is Berio's colourful reworking of Boccherini's evocative Ritirata di Madrid - A Spanish garrison marching past at night. Also today, Rachmaninov's swashbuckling Symphony No.2, and Schubert's melting Octet.
1010 Our Classical Century - 100 key moments in the last century of classical music: Judith Weir.
1050 Cultural inspirations from our guest of the week, the soprano Dame Emma Kirkby.
1130 Slow Moment - time to take a break for a moment's musical reflection. Samuel Coleridge-Taylor's blissfully dreamy Clarinet Quintet.
Last on
Music Played
Johann Sebastian Bach

Sinfonia (Cantata No 29, 'Wir danken dir, Gott, wir danken dir')

Performer: Ottavio Dantone. Orchestra: Accademia Bizantina. Director: Ottavio Dantone.

Bach: Sinfonia: Accademia Bizantina, Ottavio Dantone.
Decca.
1.

Edward Elgar

May Song

Performer: Marat Bisengaliev. Performer: Benjamin Frith.

Elgar: The Violin Music.
NAXOS.
12.

Ludwig van Beethoven

Fidelio Op.72 (Overture)

Orchestra: Berlin Philharmonic Orchestra. Conductor: Sir Simon Rattle.

Simon Rattle Edition: Beethoven.
Warner Classics.
801.

Johann Sebastian Bach

Let's Gavotte! (BWV 1006a arr. Benjamin Schmid)

Music Arranger: Benjamin Schmid.

Bach:Reflected.
Oehms Classics.
103.

Gertrude van den Bergh

Rondeau Op.3

Performer: Frans van Ruth.

Luciano Berio

Ritirata notturna di Madrid [after Boccherini]

Orchestra: Orchestra Sinfonica di Milano Giuseppe Verdi. Conductor: Riccardo Chailly.

Berio: Orchestral transcriptions: Orchestra Sinfonica di Milano Guiseppe Verdi.
Decca.
3.

Robert Schumann

Märchenbilder, Op 113 arr for cello and piano (4th mvt)

Performer: Karine Georgian. Performer: Jan Willem Nelleke.

Schumann: Music for Cello and Piano.
Naxos.
11.

Ralph Vaughan Williams

A London Symphony - 3rd movement, Scherzo

Orchestra: Royal Liverpool Philharmonic Orchestra. Conductor: Andrew Manze.

Franz Schubert

Octet in F major D.803 (2nd mvt)

Performer: Isabelle Faust. Performer: Anne Katharina Schreiber. Performer: Danusha Waskiewicz. Performer: Kristin von der Goltz. Performer: James Munro. Performer: Lorenzo Coppola. Performer: Teunis van der Zwart. Performer: Javier Zafra.

Schubert: Oktett.
harmonia mundi.
102.

Georg Philipp Telemann

Concerto in D major (TWV.54:D3)

Orchestra: La Stagione Frankfurt. Director: Michael Schneider.

Our Classcal Century: Judith Weir

Sergey Rachmaninov

Symphony no.2 in E minor Op.27 (4th mvt)

Orchestra: London Symphony Orchestra. Conductor: Valery Gergiev.

Rachmaninov Symphony No. 2 Valery Gergiev.
LSO Live.
4.

Luigi Boccherini

Quintet in E major, Op 13 No 5: Minuet

Orchestrator: Leopold Stokowski. Orchestra: Bournemouth Symphony Orchestra. Conductor: José Serebrier.

Ottorino Respighi

The Pines of Rome (final movement: 'I Pini della via Appia')

Orchestra: The Philadelphia Orchestra. Conductor: Riccardo Muti.

Respighi: Pines of Rome, etc..
EMI.
4.

Amy Beach

From Blackbird Hills, Op 83

Performer: Kirsten Johnson.

Amy Beach: Piano Music Volume 3.
GUILD.
11.

John Dowland

It was a time when silly bees could speake [1603]

Performer: Anthony Rooley. Singer: Emma Kirkby.

Pyotr Ilyich Tchaikovsky

Variations on a rococo theme, Op 33

Performer: Jean‐Guihen Queyras. Orchestra: BBC Symphony Orchestra. Conductor: Jiří Bělohlávek.

Trad.

Mouth Music and Tunes Set

Performer: Duncan Chisholm. Performer: James MacIntosh. Performer: Ewen Vernal. Performer: Phil Cunningham. Performer: Éamon Doorley. Performer: Tony Byrne. Performer: Nicola Benedetti. Music Arranger: Phil Cunningham. Music Arranger: Iain MacDonald. Singer: Julie Fowlis.

Antonín Dvořák

Slavonic Dance in C minor, Op.46 no.7

Orchestra: Royal Concertgebouw Orchestra. Conductor: Bernard Haitink.

Brahms: Hungarian Dances &Dvorak: Slavonic Dances: Haitink.
Philips.
17.

Enrique Granados

La Maja de Goya (12 Tonadillas en estilo antiguo) 

Performer: Andrés Segovia. Music Arranger: Miguel Llobet Solés.

Samuel Coleridge-Taylor

Clarinet Quintet in F sharp minor (2nd mvt)

Performer: Stephan Siegenthaler. Ensemble: Leipziger Streichquartett.

British Clarinet Quintets.
CPO.
6.

Wolfgang Amadeus Mozart

Non più andrai (The Marriage of Figaro)

Singer: Ildebrando d'Arcangelo. Orchestra: Orchestra of Teatro Regio, Turin. Conductor: Gianandrea Noseda.

Mozart: Arias: Ildebrando D'Arcangelo.
Deutsche Grammophon.
7.

Erich Wolfgang Korngold

Schauspiel Overture, Op 4

Orchestra: BBC Philharmonic. Conductor: Matthias Bamert.
Broadcast

The Classical Companion Collection