Main content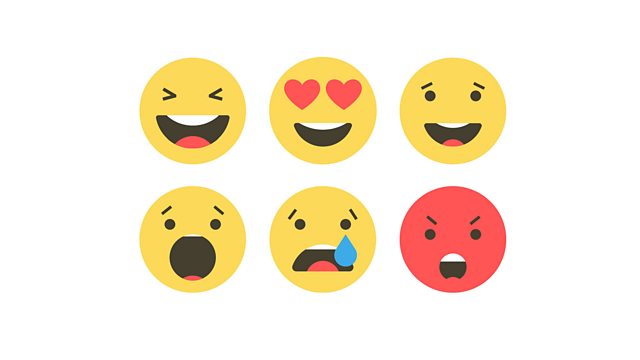 What do emojis mean to blind people?
On World Emoji Day, we ask what they mean to blind people. And audio-description built in to a performance.
For World Emoji Day the social media company We Are Social and the RNIB are collaborating to find ways to make emojis more accessible to visually impaired people. Sarah Bailey of the RNIB tells us what they've come up with so far, and we test social media expert Fern Lulham, on their uses and their meanings.
The Tree of Dreams is a story about expectations, reality, fantasy and family, devised by Ipswich's resident company of visually impaired people, with dynamic Audio Description by the internationally renowned Rationale Method, using beat-boxing sound effects to heighten the experience for both blind and sighted audiences.
In Touch reporter Toby Davey gets a taste of this new way of conveying performance to visually impaired people.
Presenter: Peter White
Producer: Lee Kumutat
In Touch Transcript: 16-07-19
Downloaded from www.bbc.co.uk/radio4
THE ATTACHED TRANSCRIPT WAS TYPED FROM A RECORDING AND NOT COPIED FROM AN ORIGINAL SCRIPT.  BECAUSE OF THE RISK OF MISHEARING AND THE DIFFICULTY IN SOME CASES OF IDENTIFYING INDIVIDUAL SPEAKERS, THE BBC CANNOT VOUCH FOR ITS COMPLETE ACCURACY.
IN TOUCH – What do emojis mean to blind people?
TX:  16.07.2019  2040-2100
PRESENTER:          PETER WHITE
PRODUCER:            LEE KUMUTAT
White
Good evening.  Tonight:  When words aren't enough.
Clip
He spins Ellen from side to side, phew, phew, phew, phuw, phuw, phuw – she lands in the arms of the monkey.
White
Tonight, we hear a new approach to audio description using sounds rather than just words. 
But first, plenty of blind and partially sighted people use social media but how feasible is it to get the most from a means of communication which depends so much on quick fire visual images and verbal shorthand?  Take the emoji, for instance – well I would if I knew exactly what an emoji was.  But it was World Emoji Day tomorrow, Wednesday, so I thought it was time I found out a bit more about it.  One of my fellow journalists at Media City is Louisa Adams.  Just explain emojis for me.
Adams
I suppose the best way to describe them is very small pictures, they're about the size of a letter that you would type on a keyboard.  And on your phone, so if you have a smart phone like an Apple or an android phone, you can get an emoji keyboard which comes up.  And quite often when you type out a word it will suggest an emoji for you to use instead of the word or to add after the word.  So, for example, there's a whole range of emotions, so that's how they started, so there's a big smiley face or a sad face, if you're feeling very sad.  So, instead of putting a kiss I might use my favourite emoji which is a little kissing face but with a love heart that comes out of its mouth.  There's a woman who's wearing a flamenco dress who's dancing and I often use her if I'm feeling in a good mood or if I'm excited about doing something.  There's the classic Prosecco bottle popping, which is used if you're in a celebratory mood.  Or if it's someone's birthday you can send them a little emoji cake.  So, you know, there's a big selection Peter.
White
Okay.  Well there are a lot of visually impaired people fair better informed than me.  Fern Lulham does have a little sight and you use emojis.
Lulham
I do.
White
Why?
Lulham
Sometimes it's easy as we all know to misinterpret what someone's saying in a text, so you could say – thanks a lot – and if you put a smiley face it means something very different to if you say – thanks a lot – with a furrowed brow, you know, thanks a lot, great!  So, it's a way of sort of expressing yourself and distinguishing between two different tones of voice over just text but obviously now it's branched out into all kinds of things and it's just a bit of fun really, isn't it?
White
But that sounds as if it does need quite a lot of precision.  How easy is it for you to use with a little sight and how easy is it to get things confused?
Lulham
It is very easy to get things confused and I have definitely used the wrong emoji at times because as Louisa was saying, they are very small, so it is hard to see details and I think the more detailed they're getting the more specific the pictures are, the harder it is for somebody like me, who can't see very well, to make out exactly what is going on.
White
If I could do a radio emoji it would be confused face at the moment.  Can I just give you a little test to see how you do recognise emojis?  Here we go, people would normally hear these on synthetic speech, so you're using screen reader, but we decided to have a real voice. 
Emoji example
Face with tears of joy.
Lulham
I think this is one of the most used emojis and I think it's kind of replaced the LOL – do you know about LOL Peter – L O L?
White
Even I know that – laugh out loud.
Lulham
Yes.  So, I think it's basically replaced that and it's a very happy, as you can imagine, face with tears coming down, so sort of crying with laughter, as it were.
White
Okay, what about this?
Emoji example
Loudly crying face.
White
They sound alike.  What's the difference?
Lulham
Well loudly crying face is you're actually upset, right and you have tears coming out of your eyes like two waterfalls, you wouldn't use this in a happy situation.  And I think the expression, I feel like, is a sad expression as well.
White
But I suppose that is an example where you could if you didn't know as much as you do about it, you could be confused, you could send the wrong message.
Lulham
Absolutely and especially if you're talking about something that's very sad – a death of somebody or a death of someone's pet or something like that – you don't want to go and put the crying with joy face, definitely not.
White
Well the RNIB has recently held a workshop looking at ways in which emojis could be made more accessible to blind and partially sighted people.  Sarah Bailey, who works in marketing for the RNIB, was there.  I mean, for a start, how do you use emojis Sarah?
Bailey
I use them very little, quite simply because I use android and I zoom into the screen and I find it quite hard to distinguish between all of the different emojis that are available.  I would love to see them made more accessible so that I can definitely use them because I love social media and I still want to be part of the same conversation that everyone else and emojis have become like a common language that I think we should all have the ability to use.
White
So, what does more accessible mean because screen readers do already describe them, as we've said, what else needs to happen in your opinion?
Bailey
Your access emoji differs between platforms and then also the kind of visual cues, I guess.  So, a lot of the emojis, yellow faced ones, for example, the smiley faces and the sad faces, all look very similar in terms of colour, shape and the outlines, as well.  So, it's kind of improving as many elements of those things as possible.
White
You are thinking in terms of how totally blind people could get more help from this as well.
Bailey
Yeah, so I think for totally blind people there's probably more to do in terms of how they can access the emojis in the first place.  There's so many that are coming out now that it's just improving how they're presented perhaps on different platforms and making that more consistent that make the emojis more identifiable and you can search for them perhaps in alphabetical order, I think things like that.
White
Can I ask you both what is the main problem?  Is it how we can accurately interpret the emojis that are sent to us or how we can find the appropriate emoji we want to send to somebody else?  Fern first.
Lulham
If you're sending the wrong one you could be completely making a fool of yourself probably more because there's such a wide selection these days that you can say so many different things in the click of a button and it could be the wrong button and you could send a completely different message from the one that you meant to, to somebody else.
Bailey
Yeah, so I think in terms of interpreting the one you're receiving it's definitely more problematic for partially sighted because it's quite hard to distinguish between the different ones.  Whereas when you're using the screen reader it kind of tells you – crying out loud – so, it's kind of decided for you what the emotion is, whereas I think it's a lot more open to interpretation for people such as myself who are partially sighted.
White
I think we've established the possibilities of confusion.  Perhaps we can see how you react to these.
Emoji examples
Kissing face with open eyes.  Kissing face with squinting eyes.  Kissing face with closed eyes.
Lulham
I think you would just go for the first one that your finger went.  Is there much difference really?  Does it matter that much?
White
Well, it's no good asking me but let me – Louisa is still here, Louisa can you tell us the difference between….?
Adams
I think in that situation it's personal preference, I think, always.  I might send the closed eyes kissing face to my boyfriend but I probably wouldn't send it to his mum.  I don't know.  It's a very nuanced difference, I would say.
White
We're going to try one more list on you.
Emoji examples
Unamused face.  Disappointed face.  Sad pensive face.  Worried face.  Confused face.  Persevering face.
White
Right, now they all sound pretty similar in a way.  Anyone like to have a shot at what the difference is and how you would choose.
Lulham
I think it depends on your situation.  Obviously, some of them are sadder, like disappointed would be different from confused, because confused is – I'm guessing it's like an S on its side mouth.  It's just slightly different emotions but they're very similar.  But I do think the pensive face might sort of come across as a bit more sarcastic and ooh it's so difficult because it depends on the – also it depends on the receivers' interpretation, doesn't it and what mood they're in that day.
Bailey
Yeah, I think there's probably a lot of eyebrow different positions going on and yeah, action, yeah.
White
But are visually impaired people missing out on some of the nuances here, which perhaps Louisa is picking up on, are we missing out and are there ways in which we could be more included?
Lulham
I think with that one we are sort of missing out because I wouldn't know the difference between that one and I wouldn't really be able to see any difference, I don't think.  Like Louisa says it might just be down to the eyebrows and that's such a tiny thing.  And I guess that would just be down to describing it more specifically in a screen reader or just making the expression more prominent and obvious to tell a difference between.
White
And I suppose the other problem is that they're changing quite fast aren't they?  Louisa, do new ones come in?
Adams
They put new ones in all the time, so it seems to develop according to what's trending at the time.  I mean, for example, they recently put a woman wearing a hijab in the kind of more lifelike looking emojis.  But I mean there are trees, animals, sporting activities – literally emojis for almost every part of life.  So, there is an ever-expanding lexicon of emojis for people to get their head around.  To me it sounds very simplistic how they've described it, I couldn't tell the difference from that description – I can't even picture in my head which emoji that might correspond to.
White
The suggestion is people could be more specifically identified, in other words you could have emoji indicating that you were blind person, if you've gone somewhere with a blind friend you would indicate the blind friend.  Fern, is that something that you want?
Lulham
Am I allowed to be controversial here?
White
You are absolutely allowed to be controversial.
Lulham
I'm not sure about that, that makes me a bit uncomfortable.  I have always said, which I think is quite a popular view in the disabled community, that I don't want my disability to define me.  Having an emoji which just represents me as a blind person, to me is like the definition of my disability defining me.  I just want to be dancing, if I'm going out dancing, like what is there a blind person dancing or am I just a blind person standing there watching the dancing?  It's not emages, it's not images, we don't have to look like the person in the emoji, it's just portraying what we're doing and that's why I liked it when they were little yellow people because nobody's a little yellow person really, so it just represents everyone as people, as humans, that share emotions.
White
Fern Lulham, Sarah Bailey, thank you very much indeed and Louisa Adams, thanks for making me a little less confused.
Do tell us about your own use of emojis, whether you find them inclusive and fun or just annoying.
Audio description is another technique where until recently words have been enough.  They're used to describe the action on film, stage or television when there's no dialogue to tell us what's going on.  But can audio description be an artform in itself? 
The rationale method has been developed by dancer Nathan Geering, using sounds based on beep boxing and hip hop.  He's been using it to describe dance and physical movements on stage and he's been working with the visually impaired theatre company Unseen Suffolk on their new production Tree of Dreams, training members of the company to create the sounds themselves.
Our reporter Toby Davey joined the company as they rehearsed.
Geering
My name is Nathan Geering and I am the creator of the rationale method and what the rationale method is, it's an umbrella term for a bunch of unique techniques than can enhance accessibility for people with a range of disabilities but mainly focusing on visual impairment.
Davey
You've done a lot of research into the description and how best to develop the rationale method and working with blind and partially sighted people through workshops.  From the research what were the visually impaired people telling you about the development of the method, what were they saying, what was their reaction?
Geering
Obviously because it was quite a new concept it took a moment to get people to grasp how it works.  You know we got people with visual impairment to actually physicalise each sound effect the beat box makes and so, for example, if the majority of people are saying zip dum sounds like a jump, that's what we use for a jump.  If they were saying phew, phew, phew, is the sound effect that they would recognise for like a high spin, we would use that for a high spin, if phuw, phuw, phuw was a low spin, we would use that for a low spin.  And so, because we've worked with so many people across a period of time, we've created our own language, I guess.
Clip
Tree branches rise up into the air.  Phoooo tap.  The tree folk look at their paint brushes then spin around towards the tree.  Phuw.
Ellen joins in as they start to paint the tree, the floor and the air all around them, using long brush strokes and dabbing dots – phrip, phuw, dib dib, phrip, phuw dib dib etc…
Whitny
My name's Wayne Whitny, I'm one of the founding members of Unseen Suffolk, I've been right here since the beginning.
Davey
How did you come up with some of the noises and sounds that you make because I've just been watching a bit of a rehearsal and you're making noises for paint being splashed around and stuff – and things like that and some really fun noises coming out and I wonder how did you come to the actual noises that you're doing.
Whitny
Actually, you know, the paint splatter one Nathan actually taught me how to do that one.  But it is the only one that he's taught me sort of how to do.
Clip
The woodcutter [high pitch noises]…
Whitny
Obviously, the chainsaw, what I actually did, incredibly, was I actually listened to a clip of it on You Tube.
Davey
From somebody's who's visually impaired yourself and probably somebody's who's experienced what people might call as traditional audio description, how does the rationale method and the sounds compare to traditional audio description?
Whitny
Well audio – audio description is obviously an amazing thing for any person with any type of visual impairment but the sound effects that I do, you know the ones that Nathan does as well, because they're in a room and they're live they sound different and they sound more real.  But with the audio description added on to that it makes it sound so much better and the audio describer can – well Nathan certainly does – he certainly puts feeling into and more expression into the words, so it's almost like he's part of the show as well, it adds more feeling to it, it sort of immerses the audience more into it definitely.
Davey
You've been working with Unseen Suffolk on Tree of Dreams here in Ipswich, a bit of homecoming for you, how has the rehearsal process been going and what do you think you are able to bring to the production?
Geering
It has been absolutely incredible to be back in my home town and to be working on this production with this incredible cast of people, they're absolutely brilliant and they just inspire me, wow me and just make me laugh every single day, it's just wicked, it's so great.  And the great thing about this is the audio description is for everybody to hear, we're trying to get rid of those barriers of isolation and things.  So – and that's the whole dream for audio description is for it to be a shared experience that can actually enhance accessibility for sighted audiences, just as much as visually impaired audiences.  The great thing about this production is because a lot of it happens within a dream like state, we've been able to use the sound effects in a way that have been almost – have more like an animated and cartoon kind of feel to it.
Clip
Tree dweller sweeps up Ellen and holds her close, ready to tango dance across the stage.  They face each other, turn to the side, they face each other, turn to the side, heels flick and step, flick and step, flick and step, flick and step, they face each other.  He spins Ellen from side to side – phew, phew, phew, phuw, phuw, phuw, whoosh, she lands in the arms of the monkey.
Davey
Having experienced the rationale method during rehearsals in Ipswich and chatting with Nathan and Wayne I now fully understand how the method works using sound to describe what's going on, on stage.  And it's great that the audio description is available for all.  I can see where this method of description really works for a play like Tree of Dreams but I'm not totally sure how it would work for a play where the description has to be added on.  But I'm happy to be proved wrong.  So, what do visually impaired theatre goers make of this new way of describing.
Actuality
So, without further ado ladies and gentlemen, I would like to present to you Unseen Suffolk's Tree of Dreams.  [Applause]
Vox pops
Well I'm severely sight impaired and I thought it was absolutely brilliant.  I liked the way the cast also joined in the audio description and I thoroughly enjoyed it all and I didn't have to wear headphones, so it was very good.
Having the audio description over the top of everything else able to pick up the actions a lot of easier.  For somebody who is visually impaired it was brilliant, brilliant show, well done.
The audio description today was excellent.  I don't think I could fault it, to be honest.  That opened my eyes to the things that people who can see see.
Clip
…steel door and [indistinct word] horn and a number plate.  [Car noises and hooting] [Applause]
White
Fran Ling, Kevin Ross and Lizzie Burch ending Toby Davey's report.
And that's it for today.  You know by now we always want to hear your views.  You can leave them on our phone line, number 0161 8361338.  You can email intouch@bbc.co.uk or go to our website bbc.co.uk/intouch from where you can download tonight's and previous editions of In Touch.
From me, Peter White, producer Lee Kumutat and the team, waving hand, smiley face.