Main content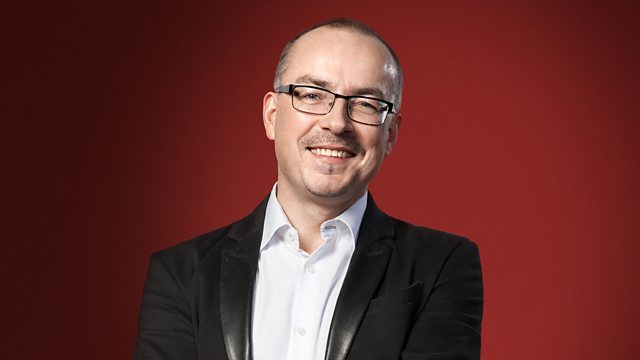 Andrew McGregor with Iain Burnside and Nigel Simeone
New recordings with Andrew McGregor, Building a Library on Strauss's Four Last Songs from Iain Burnside, and new orchestral releases reviewed by Nigel Simeone.
with Andrew McGregor.
09.30
Building a Library: Iain Burnside listens to and compares recordings of Richard Strauss's Four Last Songs.
Strauss composed his great swansong for the female voice when he was 84. They are settings of the German poets Hermann Hesse and Joseph von Eichendorff and the themes of death and reconciliation are portrayed in music of the most aching wistfulness and melancholy. They were more or less his final completed works and are among the most popular pieces in the orchestral song repertoire. The list of sopranos who have recorded these songs is a roll call of the most beautiful voices of the last 70 years. Iain Burnside has a very difficult choice to make.
10.30
Andrew McGregor talks to Nigel Simeone about new releases of orchestral music by Sibelius, Saint-Saens, Debussy and Copland.
11.25
Andrew chooses an outstanding new release as his Disc of the Week.
Record Review
9.00am
'Haydn – Piano Sonatas vol. 8' – Haydn: Sonata Nos. 5, 51, 6, 7 & 59 + other works for piano
Jean-Efflam Bavouzet (piano
Chandos CHAN 20087
https://www.chandos.net/products/catalogue/CHAN%2020087

Tavener: The Protecting Veil, Mother and Child; Khan: The Song of Separation and Waiting + readings of Yeats poems
Matthew Barley (cello)
Sukhvinder 'Pinky Sing (tabla)
Sinfonietta Riga (ensemble)
Signum Classics SIGCD585
https://signumrecords.com/product/6863/SIGCD585/

'Handel's Queens' – Arias for Cuzzoni & Bordoni by Pollarolo, Handel, Hasse, Porpora, Orlandini, Vivaldi, Torri, Bononcini, Ariosti, Leo & Greene
Lucy Crowe (soprano / Cuzzoni)
Mary Bevan (soprano / Bordoni)
London Early Opera
Bridget Cunningham (director)
Signum Classics SIGCD579 (2 CDs)
https://signumrecords.com/product/handels-queens/SIGCD579/

'Gateways' – Chen: The Five Elements & The Joy of Suffering; Kreisler: Tambourin Chinois, Op. 3; Rachmaninov: Symphonic Dances, Op. 45
Maxim Vengerov (violin)
Shanghai Symphony Orchestra
Long Yu (conductor)
Deutsche Grammophon 483 6606
https://www.deutschegrammophon.com/gb/cat/4836606
9.30am – Building a Library – Iain Burnside on Straus's Four Last Songs
Composer: Richard Strauss
Reviewer: Iain Burnside
Recommended Recording:

Karita Mattila
Berlin Philharmonic Orchestra
Claudio Abbado (conductor)
DG 4451822 
Other Recommended Recordings:

Jessye Norman
Leipzig Gewandhaus Orchestra
Kurt Masur (conductor)
Philips 4758507

Anna Tomowa-Sintow
Berlin Philharmonic Orchestra
Herbert von Karajan (conductor)
DG 4191882
10.20am – New Releases

J.S. Bach: The Well-Tempered Clavier Book I (concert recording)
Keith Jarrett (piano)
ECM 481 8016 (2 CDs)
https://www.ecmrecords.com/catalogue/1552567254

Mysliveček: Adamo ed Eva
Roberta Mameli (soprano)
Alice Rossi (soprano)
Luciana Mancini (mezzo-soprano)
Valerio Contaldo (tenor)
Il Gardellino (ensemble)
Peter van Heyghen (conductor)
Passacaille PAS 1053 (2 CDs)
https://www.passacaille.be/gb/home/271-adamo-eva-josef-myslivecek-il-gardellino-josef-myslivecek-1737-1781-adamo-ed-evaoratorio-for-four-voices-1771-world-premiere-rec.html

Ravel: Piano Trio in A minor; Chausson: Piano Trio in G minor
Vienna Piano Trio
MDG 942 2130-6 (Hybrid SACD)
https://www.mdg.de/titel/2130.htm

'Bach:Reflected – Improvisations on J.S. Bach'
Benjamin Schmid (violin)
Georg Breinschmid (double bass)
Diknu Schneeberger (guitar)
Stian Carstensen (accordion)
Emiko Uchiyama (marimba)
Miklos Skuta (clavier)
Oehms Classics OC 1892
https://oehms.lnk.to/OC1892/FB

10.45am – Nigel Simeone on new orchestral recordings

Sibelius: Lemminkäinen Suite, Spring Song & Suite from Belshazzar's Feast
BBC Symphony Orchestra
Sakari Oramo (conductor)
Chandos CHAN 20136
https://www.chandos.net/products/reviews/CHAN_20136

Sibelius: Kullervo
Helena Juntunen (soprano)
Benjamin Appl (baritone)
Lund Male Chorus
BBC Scottish Symphony Orchestra
Thomas Dausgaard (conductor)
Hyperion CDA68248
https://www.hyperion-records.co.uk/dw.asp?dc=W19722_68248

Saint-Saëns: Symphony No. 3; Poulenc: Concerto for Organ, Strings & Timpani; Widor: Toccata from the Symphony for Organ No. 5
Christopher Jacobson (organ)
Orchestre de la Suisse Romande
Kazuki Yamada (conductor)
Pentatone PTC5186638 (Hybrid SACD)
https://www.pentatonemusic.com/saint-saens-poulenc-widor-organ-symphony-concerto-toccata-jacobson-osr-yamada

'Pan-American Reflections' – Copland: Symphony No. 3 & Chávez: Symphony No. 2 'Sinfonía India'
The Orchestra of the Americas
Carlos Miguel Prieto (conductor)
Linn Records CKD 604
https://www.linnrecords.com/recording-copland-chavez-pan-american-reflections


11.25am – Record of the Week

Weber: Oberon
Oberon - Clemens Kerschbaumer (tenor)
Huon - Mirko Roschkowski (tenor)
Rezia - Dorothea Maria Marx (soprano)
Meermädchen - Karola Pavone (soprano)
Sherasmin  - Grga Peroš (baritone)
Fatima  - Marie Seidler (mezzo-soprano)
Roman Kurtz (narrator)
Chor und Extrachor des Stadttheater Giessen
Philharmonisches Orchester Giessen
Michael Hofstetter (conductor)
Oehms OC984 ( 2 CDs)