Main content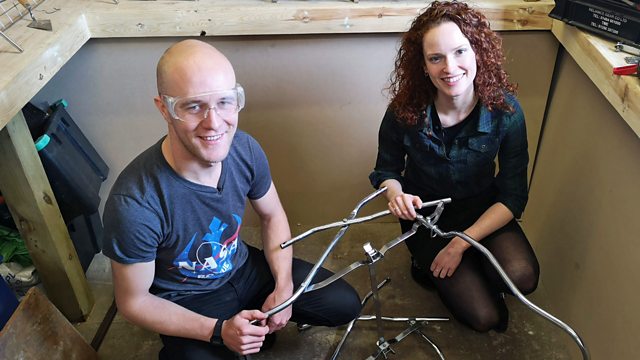 Making a bogie/go-kart from an old pram and other retro upcycling ideas with Shona Masson. Bho seann phram gu cairt spòrsail agus ùrachadh air seann fhasan cuide ri Shona Masson.
Shona Masson is on a mission not only to reduce waste but to create exciting new things as she does it.
Shona finds an old-fashioned pram in the Barnardo's shop in Glasgow's Maryhill and challenges Murray Willis, who is trained in metalwork, to make a retro bogie (or go-kart) from it. Murray rises to the challenge and uses an old bed for the rest of the frame. The two of them have great fun trying it out!
Shona also makes spinning tops from just newspaper, a cocktail stick and some sellotape, and a fruit hanger using vintage bowls and the macramé technique.
Tha Shona Masson a'cur roimhpe sgudal a'lùghdachadh – agus rudan inntinneach ùra a chruthachadh leis.
Tha i a'lorg pram gu math seann-fhasanta ann am bùth carthannais Barnardo ann am Maryhill an Glaschu; agus a'foighneachd do Murray Willis, a thug a-mach ciùird ag obair le miotailt, an tèid aige air cairt spòrsail a dhèanamh leis? Chan eil Murray fada ga chur ri chèile, le frèam a rinn e le pìosan de sheann leabaidh. 'Se sealladh a tha san dithis a'feuchainn a'charbaid!
Tha Shona fhèin a'dèanamh dòtamain gun dad ach pàipear-naidheachd agus bioran caol, agus basgaidean.
In Gaelic with English subtitles
More episodes
Next
You are at the last episode