Main content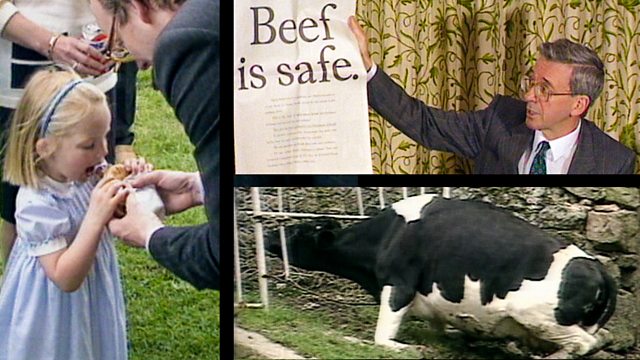 Mad Cow Disease: The Great British Beef Scandal
The story of Britain's biggest ever food scandal. Mad cow disease has killed almost 200 people. It is an epidemic that was created through greed and political miscalculation.
The story of Britain's biggest ever food scandal. Since 1996, almost 200 people have died from vCJD, whilst the cattle disease BSE has been responsible for the death of over four million cows. It has cost the NHS over a billion pounds and virtually destroyed the British beef industry in the 1990s. Beneath the statistics is a story of greed, corruption and catastrophic political misjudgement by the then Conservative government. With access to all of the politicians, scientists and families who have been defined by this epidemic, this film pieces together a forgotten chapter of our recent history.
In March 1996, the health secretary Stephen Dorrell stood up in parliament and announced that a new fatal disease had been discovered called vCJD. This disease was untreatable, incurable and almost the entire British population had been exposed to it. Nobody knew how big the epidemic was going to be, but there had already been ten victims that year. What made this extraordinary statement even more disturbing was that this disease was entirely man-made.
The story of mad cow disease begins in the 1970s, when supermarkets were first emerging onto the British high street. Meat consumption was going through the roof as people emerged from World War II austerity. Britain's farmers were under pressure to produce beef cheaply and quickly. So they started feeding their cattle an artificial protein supplement to speed up growth. This supplement was called meat and bone meal and it was made from the rendered down remains of other animals – sheep, pigs and cattle. At the time, nobody raised an eyebrow – this was progress and enabled Britain to sell millions of cheap burgers, pies and sausages to a meat-hungry population.
But in 1985, a new disease called BSE broke out on a single farm in Wiltshire. Nobody has ever discovered what caused the first case of BSE, but it spread across Britain rapidly. The cause of this spread was the meat and bone meal that cows were being fed. Infected animals were being ground up and fed to other animals, causing BSE to pass from cow to cow. By 1989, millions of animals had been infected.
What happened over the next seven years was a series of poor decisions by the then Conservative government and ministry of agriculture. They failed to stop cattle infected with BSE getting into the human food chain, and also failed to alert the public to the possible dangers posed by the disease. It was only in 1996 - when ten human victims of the human form of BSE – vCJD - had been identified that the government changed its approach. And by then it was far too late.
This film unpacks this history, and also follows what happened after 1996. The human form of BSE - called variant Creutzfeldt-Jakob disease (vCJD) - has killed almost 200 people. Despite over 20 years of scientific research, scientists are no closer to discovering a cure for it, or even a test to see who is carrying it. vCJD remains one of the great unsolved medical problems. And what still alarms researchers is that they don't know how many people are still carrying the infection, nor how many more will die from the disease.
Credits
| Role | Contributor |
| --- | --- |
| Director | Will Lorimer |
| Editor | James Gold |
| Executive Producer | Liesel Evans |
| Production Manager | Clara Thomas |
| Composer | Mat Davidson |
| Production Company | Raw Factual Ltd |