Main content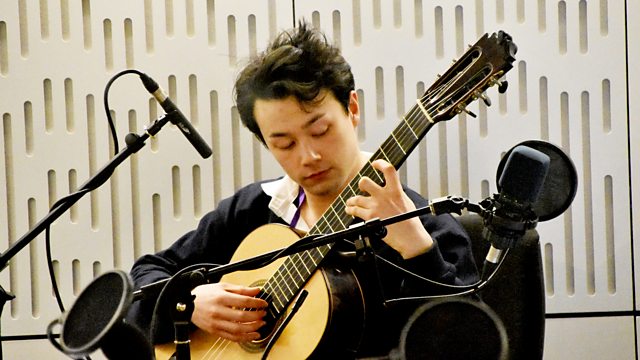 Adaptations and Collaborations
Classical guitarist Sean Shibe reveals the secrets of his world, exploring the rich sounds of the guitar and its relatives in music from seven centuries.
In the final episode of the series Sean thinks about how the guitar doesn't have to be a solitary instrument. He finds there are situations where it can work perfectly as a collaborator: in a baroque band or with a solo voice, even in unison with a piano (given the right amplification). Sean also discovers the extra emotional range that an arrangement of a piano piece can find on a guitar, proving that as Julian Bream said, it's an instrument of the senses.
Sean Shibe is a young, award-winning musician who's changing the way people listen to the guitar. In this six-part series he presents a personal choice of vibrant and varied pieces by composers from Spanish Renaissance masters to Pat Metheny and Benjamin Britten, with performers including Julian Bream, Andrés Segovia, John Williams, Tilman Hoppstock, Eric Bellocq and Massimo Moscardo. Sean discovers the characters of the extended guitar family, from the oud, lute and vihuela to the Brahms guitar, decachord and electric guitar, and expresses straight-talking views on players of the past and present who have helped shape his own unique approach to the art of guitar playing. With his guitar on his knee he'll also be showing us what to listen for and what's physically possible on the instrument.
We'll hear Sean's philosophical, intellectual and above all emotional take on the music he knows so well. He opens a door into a world that's full of subtlety and contrast in its expression of culture and style. It's a world that invites us in with all sorts of mesmeric and surprising sounds.
A Tandem Production for BBC Radio 3
Featured in...
We broadcast more live and specially-recorded concerts and opera than any other station.