Main content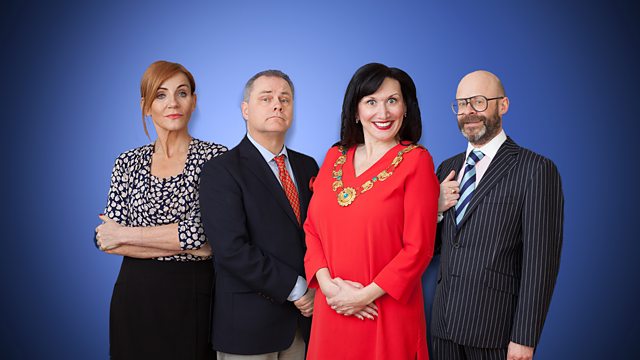 Madam Mayor
Brenda Gilhooly, Jack Dee, Harry Hill, Michelle Collins and Elis James star in a new sitcom about a newly-elected mayor and her colleagues as they botch even the simplest of tasks.
A new comedy about a loud and eccentric mayor and her equally silly colleagues - written by and starring Brenda Gilhooly, with Jack Dee, Harry Hill, Michelle Collins and Elis James.
Set in the present day in the fictional borough of Mansford, Madam Mayor merrily satirises middle England, local politics, daft bureaucracy and the deluded nature of small-time power.
The councillors at Mansford are always getting hot under the collar about something. If it's not the latest Brexit updates or a Royal visit, it's a recycling issue or a pothole saga or another wheelie bin disaster.
In this episode, the mayor surprises her team by securing an impressive celebrity to unveil a newly-commissioned statue of the Queen. But the statue is hideous and the celebrity might not actually have been booked.
The Cast:
Lizzie (Brenda Gilhooly) is the town's newly-elected mayor. Deemed by many to be far too glam, larger than life and frankly unsuitable.
Tim (Jack Dee) is a pompous councillor who loves nothing more than explaining his new cycle lanes in detail. He thinks Lizzie's a liability, entirely wrong for the job. But he is uncharacteristically excited by the celebrity guest that Lizzie has booked to unveil Mansford's new statue of the Queen.
Roger (Harry Hill) is Lizzie's mate, a silly, incompetent and eccentric councillor and not remotely in control of any event he's assigned to direct. He can be guaranteed to make a bad situation so much worse.
Denise (Michelle Collins) narrowly missed becoming mayor herself. Nouveau, snobby and upwardly mobile, she considers herself infinitely superior to Lizzie.
Spike ( Elis James) is the only sane one of the lot, the voice of reason amidst the madness.
Producers: Claire Jones and Pete Ward
An Olga TV/Mayoress Production for BBC Radio 4