Main content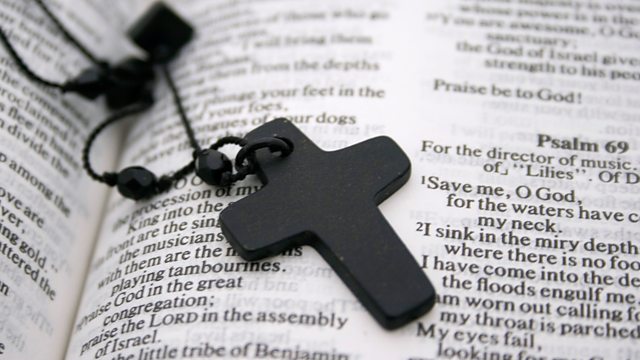 Genesis
Anton Lesser and Stella Gonet with poems and prose inspired by Bible stories from Genesis including Adam and Eve to Joseph and music ranging from Strauss to Andrew Lloyd Webber.
Anton Lesser and Stella Gonet with readings from Genesis and poems that cast a sideways glance at these well-known myths.
The first book of the Bible is a wellspring of potent stories that contain deep truths and powerful archetypes. The expulsion of Adam and Eve from the Garden of Eden shows how we learn to label things as Good or Evil in our search for knowledge; and how this comes at a terrible price. The fratricidal brothers, Cain and Abel, demonstrate the malevolent force of resentment and revenge.
Stella Gonet reads from the classic King James Version of the Bible, a translation whose cadences run through Shakespeare, Milton and all of English literature.
As well as the tales of Noah, Abraham, Isaac, Jacob and Joseph, Anton Lesser explores the untold stories of the women in Genesis: Eve thrown out of paradise and yearning to lie naked in the grass of Eden once more; a middle-aged and plump Mrs Noah looking back at her passionate youth when she was locked up in an ark full of frisky animals; and Potiphar's wife, the prototype of a whole line of femmes fatales looking for a "rough and ready man."
As well as containing great wisdom, these deep-rooted myths can tap into more dangerous aspects of the human psyche, if taken too literally. One of the best-known parts of Genesis is the story of Noah's flood. The notion of a universal flood sent by God to purify a world that has supposedly fallen into sin is a common theme in many religions. It has allowed the idea that any major flood or catastrophe expresses God's displeasure. In 2014 it was claimed by some that the UK floods were divine retribution for the British government's introduction of gay marriage. It prompted a Facebook campaign to get the song "It's raining men" to UK number one. This iconic 80s gay anthem was written for the duo Two Tons o Fun, later known as The Weather Girls.
Also includes music by Messiaen, Dowland, Cole Porter, Berg, Stravinsky, Rossini, Bach, Martin Georgiev, Ligeti, Mozart, Richard Strauss and Andrew Lloyd Webber.
Readings:
Extracts from Genesis in the King James Bible translation of 1611
Paradise Lost Book 4 - Milton
Eve - Ella Higginson
Cain and Abel – Kipling
Noah – Siegfried Sassoon
Mrs Noah: Taken After the Flood - Jo Shapcott
Babel - Sir Osbert Sitwell
The Parable of the Old Man and the Young - Wilfred Owen
Joseph's Dreams and Reuben's Brethren - Henry Lawson
Potiphar's Wife - Sir Edwin Arnold
Producer: Clive Portbury
Music Played
Timings (where shown) are from the start of the programme in hours and minutes
Bible

Genesis 1: 1-3, read by Bill Anders, crew member of Apollo 8, on Dec 24 1968)

Bible

Genesis 2: 6-9 read by Stella Gonet

Bible

Genesis 2: 21-25 read by Stella Gonet

Milton

Paradise Lost Book 4:25-61 read by Anton Lesser

Bible

Genesis 3: 1-5 read by Stella Gonet

Ella Higginson

Eve read by Anton Lesser

Bible

Genesis 4: 1-8 read by Stella Gonet

Kipling

Cain and Abel read by Anton Lesser

Bible

Genesis 6-7 (extract) read by Stella Gonet

Siegfried Sassoon

Noah read by Anton Lesser

Bible

Genesis 8: 6-11 read by Stella Gonet

Jo Shapcott

Mrs Noah read by Stella Gonet

Bible

Genesis 11 (extract) read by Stella Gonet

Osbert Sitwell

Babel read by Anton Lesser

Bible

Genesis 22:1-2 read by Stella Gonet

Wilfred Owen

The Parable of the Old Man and the Young read by Anton Lesser

Bible

Genesis 28: 10-18 read by Stella Gonet

Bible

Genesis 37 (extract) read by Stella Gonet

Bible

Genesis 39: 1, 4 read by Stella Gonet

Henry Lawson

Joseph's Dreams (extract) read by Anton Lesser

Edwin Arnold

Potiphar's Wife (extract) read by Anton Lesser