Main content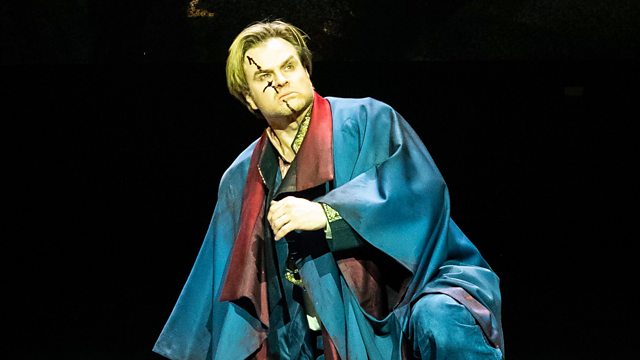 Mozart: Idomeneo
Mozart's Idomeneo from the Vienna State Opera, presented by Flora Willson in discussion with Timothy Jones.
Tonight's Opera on 3 is Mozart's Idomeneo from Vienna State Opera. Idomeneo, the King of Crete is sailing home from war in stormy waters which will only abate when he swears he'll offer as a sacrifice the first person he sees on landing. This person happens to be his son, Idamante. When he tries to go back on his promise, Crete is afflicted by destruction, and he realises he must choose between his son, and his people.
Musicologist Dr Flora Willson presents, and is joined by Professor Timothy Jones to discuss Mozart's first mature opera and its context.
6.30pm
Mozart: Idomeneo
Idomeneo.....Bernard Richter (Tenor)
Idamante.....Rachel Frenkel (mezzo-soprano)
Elettra.....Irina Lungu (Soprano)
Ilia.....Valentina Nafornita (Soprano)
Arbace.....Pavel Kolgatin (Tenor)
High Priest of Neptune.....Carlos Osuna (Tenor)
Voice of Oracle of Neptune.....Peter Kellner (Bass)
Vienna State Opera Chorus
Vienna State Opera Orchestra
Tomas Netopil (Conductor)
The Trojan war is over. Idomeneo, king of Crete and victorious general of the Greek forces, is sailing home. However, a storm prevents him from arriving safely. The raging seas only abate when he swears that if saved from death he will sacrifice the first human whom he encounters on land. However, this first human turns out to be his son, Idamante. Idamante is in love the Trojan king's daughter, Ilia, who is living on Crete as a prisoner of war; and she is in love with him. However, Elettra, who fled from Argos after murdering her mother and has sought refuge in Crete, is also in love with Idamante and believes that she will win him for her own. To save his son from being sacrificed, Idomeneo plans to send him and Elettra to Argos, where they will rule as the new royal couple. His plan fails, and Crete is afflicted by destruction and chaos.
Idomeneo vacillates between sacrificing his son and saving his people. When he decides in favour of his people and against this son, Ilia stops the sacrifice, offering herself in his place. However, this does not occur. Idamante breaks free of his overpowering father and together with Ilia takes over the rule of Crete. Idomeneo and Elettra succumb to the demons of their past.