Main content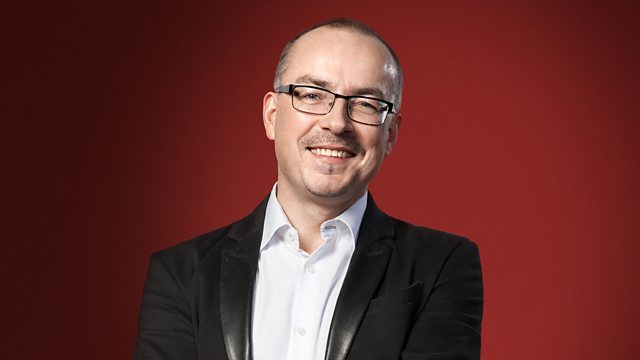 Andrew McGregor with Jonathan Cross and Erica Jeal
Andrew McGregor rounds up the best new and recent releases, and in Building a Library Jonathan Cross compares recordings of Stravinsky's ballet music, The Rite of Spring.
with Andrew McGregor.
09.30
Building a Library: Jonathan Cross listens to and compares recordings of Stravinsky's ballet music, The Rite of Spring.
Stravinsky's music for The Rite of Spring is arguably his most iconoclastic work and one of the masterpieces of twentieth-century orchestral music. It had originally been written for the 1913 Paris season of Sergei Diaghilev's Ballets Russes company, for which he had composed both the Firebird and Petrushka as a young and unknown composer. The premiere at the Theatre des Champs-Élysées on 29 May 1913 caused such a 'riot' that the Rite of Spring has gone down in the history books as much for its notoriety as its influence. The Rite of Spring is subtitled 'Pictures of Pagan Russian in Two Parts' and expresses primitive rituals to celebrate the advent of spring. Its most notorious scene is that in which a young girl is chosen as a sacrificial victim and dances herself to death. The music is raw with savage harmonies, otherworldly melodies, and driving primitive rhythms that pulsate through the orchestra. It is a work that is so influential that it is now more often heard as a concert piece than in its original ballet setting.
10.50
Andrew McGregor discusses new recordings of chamber music with Erica Jeal.
11.25
Andrew chooses an outstanding new release as his Disc of the Week.
Record Review
9.00am

'Inauguration Cantatas for Hamburg and Altona' – Telemann: Kommt, Lasset uns Anbeten & Geschlagene Pauken, Auf!
Barockwerk Hamburg (ensemble)
Ira Hochman (conductor)
CPO 555 255-2
https://www.jpc.de/jpcng/cpo/detail/-/art/georg-philipp-telemann-einweihungskantate-fuer-das-sankt-hiobs-hospital/hnum/8977580
Piano works from Mendelssohn's Lieder Ohne Worte & Grieg's Lyrical Pieces
Denis Kozhukhin (piano)
Pentatone PTC5186 734
http://www.pentatonemusic.com/grieg-mendelssohn-lyric-pieces-lieder-ohne-worte-denis-kozhukhin
'Salvator Mundi' – Works by Stanford, Blow, Purcell & Tallis arranged for saxophone and organ by J.A. Thomas + original works by J.A. Thomas
Mark Lockheart (saxophone)
Roger Sayer (organ of Temple Church, London)
Edition records EDN1132
https://marklockheart.bandcamp.com/album/salvator-mundi
'Brahms: Complete Chamber Music Vol. 4' – Brahms: Violin sonatas Nos. 1-3 & Scherzo in C minor
Pierre Fouchenneret (violin)
Éric Le Sage (piano)
B-Records LBM 020
https://www.b-records.fr/
9.30am – Building a Library – Jonathan Cross on Stravinsky's The Rite of Spring
Composer: Igor Stravinsky
Reviewer: Jonathan Cross
Recommended Recording:

Philharmonia Orchestra
Esa-Pekka Salonen (conductor)
Sony 88985369592
Other Recommended Recordings:
Les Siècles
François-Xavier Roth (conductor)
Actes Sud ASM15
City of Birmingham Symphony Orchestra
Simon Rattle (conductor)
Warner Classics 7496362
Cleveland Orchestra
Pierre Boulez (conductor)
DG 4357692
MusicAeterna
Teodor Currentzis
Sony 88875061412
10.20am – New Releases
Tarare/Ombre de Tarare - Cyrille Dubois (tenor)
Astasie/Ombre d'Astasie - Karine Deshayes (mezzo-soprano)
Atar/Ombre d'Atar - Jean-Sébastien Bou (baritone)
La Nature/Spinette - Judith van Wanroij (soprano)
Calpigi - Enguerrand de Hys (tenor)
Arthenée/Ombre d'Arthenée/Le Génie du Feu - Tassis Christoyannis (baritone)
Urson/Un esclave/Un pretre - Jérôme Boutillier (baritone)
Altamort/Ombre d'Altamort/Un paysan/Un eunuque - Philippe-Nicolas Martin  (baritone)
Elamir - Marine Lafdal-Franc (soprano)
Une bergere sensible/Ombre de Spinette - Danaé Monnié (soprano)
Les Talens Lyriques (orchestra)
Les Chantres du centre de musique baroque de Versailles (choir)
Christophe Rousset (conductor)
Aparté AP208 (3 CDs)
http://www.apartemusic.com/discography/salieri-tarare/
Biber: Fidicinium Sacro-Profanum
Harmonie Universelle (ensemble)
Florian Deuter (violin)
Monica Waisman (directors)
Accent ACC 24357
'Bach – The Lute Suites' incl. BWV 995, BWV 997, BWV 1006 & BWV 996
Franz Halasz (guitar)
Bis BIS-2285 (Hybrid SACD)
https://bis.se/performers/halasz-franz/bach-the-lute-suites
'Gateways' – Chen: Wu Zing & La Joie de la souffrance; Kreisler: Tambourin chinois Op. 3; Rachmaninov: Symphonic Dances Op. 45
Maxim Vengerov (violin)
Shanghai Symphony Orchestra
Long Yu (conductor)
Deutsche Grammophon 483 6606
https://www.deutschegrammophon.com/gb/cat/4836606


10.45am – New Releases – Erica Jeal on new chamber releases

Debussy: String Quartet in G minor; Tailleferre: String Quartet; Ravel: String Quartet in F major
Stenhammar Quartet (string quartet)
Alba ABCD 431
'Bartók Bound – Vol. 1' Bartok: String Quartets Nos. 1, 2 & 4
Ragazze Quartet (string quartet)
Channel Classics CCS41419
https://www.channelclassics.com/catalogue/41419-Bartok-Bound-Volume-1/
'Brahms – The Five Sonatas for Violin & Piano, Vol. 1' Brahms: Sonata in F minor Op. 120, Scherzo in C minor from the F.A.E. Sonata WoO 2 & Sonata No. 1 in G
Ulf Wallin (violin)
Roland Pöntinen (piano)
BIS BIS-2369 (Hybrid SACD)
https://bis.se/performers/wallin-ulf/brahms-the-five-sonatas-for-violin-piano-vol1-1
'Beethoven Plus, Vol. 2' – Beethoven: Sonatas Op. 30 Nos. 1 & 2 & Op. 96; Matthews: Sonatina, Op. 128 + works by Schwertsik, Taylor, Ashworth & Matthews
Krysia Osostowicz (violin)
Daniel Tong (piano)
SOMM SOMMCD 0197-2 (2 CDs)
https://somm-recordings.com/recording/beethoven-plus-volume-ii/
'Chiaroscuro' - Works for string quartet by Mozart, Mendelssohn, Glass, Shostakovich, Janáček & Gershwin
Schumann Quartet (string quartet)
Berlin Classics 0301213BC
https://berlin-classics-music.com/en/releases/chiaroscuro/

11.25am – Record of the Week

Janacek: The diary of one who disappeared, Říkadla 'Nursery Rhymes' & Moravian folk poetry in songs
Nicky Spence (tenor)
Vaclava Houskova (mezzo)
Victoria Couper (voice)
Clemmie Franks (voice)
Emily Burn (voice)
Julius Drake (piano)
Hyperion CDA68282
https://www.hyperion-records.co.uk/dc.asp?dc=D_CDA68282