Main content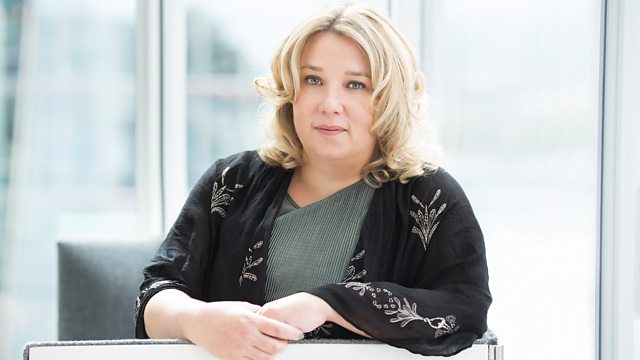 Gail Honeyman - Eleanor Oliphant is Completely Fine
Gail Honeyman talks about her best-selling hit novel Eleanor Oliphant Is Completely Fine. James Naughtie presents and a group of readers ask the questions.
Gail Honeyman talks about her novel Eleanor Oliphant Is Completely Fine which won the 2017 Costa First Novel Award and has been a runaway success since.
Gail was inspired to write her debut novel after reading an article in which a young woman described her lonely life. On the outside, her life was a success, with her own flat and a good job but the reality was she often went home on Friday evening and returned to work on Monday morning without speaking to a soul all weekend.
Gail created her own version of this story with the character Eleanor Oliphant, who leads a simple life. She wears the same clothes to work every day, eats the same meal deal for lunch every day and buys the same two bottles of vodka to drink every weekend. She speaks to her mother every Wednesday evening on the phone. Nothing is missing from her carefully timetabled life.
One simple act of kindness shatters the walls Eleanor has built around herself. Gail describes how Eleanor becomes the agent of her own destiny and the change, learning how to navigate the world that everyone else seems to take for granted - while searching for the courage to face the dark corners she's avoided all her life.
Eleanor Oliphant is Completely Fine is a heartwarming story about loneliness, loss and the possibility of change.
Presenter : James Naughtie
Producer : Dymphna Flynn
August's Bookclub choice : I Saw A Man by Owen Sheers (2015)