Main content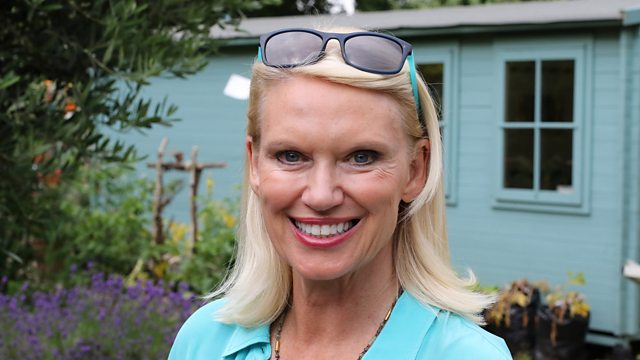 Thrive
Anneka Rice presents this month's Lifeline appeal on behalf of Thrive, a national charity whose aim is to enable positive change in the lives of disabled and disadvantaged people through the therapeutic benefits of gardening.
Thrive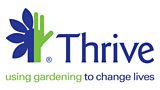 Thrive is the gardening for health charity dedicated to improving people's health and wellbeing through the power of gardening. We specialise in using therapeutic horticulture to help people with a wide range of disabilities and long-term health conditions. Established 40 years ago, Thrive has three centres in Birmingham, London and near Reading where hundreds of client gardeners come to take part in programmes. Our Horticultural Therapists work with a wide range of client gardeners including people with physical disabilities, learning disabilities, autism, sensory loss, long-term illness and those with mental health support needs.
Plants and gardens are used in a process known as Social and Therapeutic Horticulture (STH) to not only help improve people's physical and mental health, but their communication and thinking skills. Our gardens are safe places to develop clients' social interaction, as well as life skills that will help them live more independently. Our Horticultural Therapists work closely with client gardeners to help them reach mutually agreed targets.
We work in the wider community too, for example running programmes at shelters or hostels for a range of people with mental health support needs and helping young people with special educational needs gain practical horticultural qualifications. Thrive also runs a national information service and last year helped 3,000 people around the country with inquiries about ways gardening can boost health and how people can continue to garden if they are living with a disability.
In addition, we are the UK's leading horticultural therapy training organisation, running face-to-face, online and bespoke training and education opportunities across the country.
Anneka Rice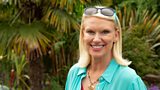 I'm delighted to be supporting this appeal for the gardening-for-health charity Thrive. The Herb Garden in Battersea Park is just one of their wonderful spaces and although it's in the heart of the city, it's the perfect antidote to the stresses of modern life.
Thrive uses gardening as therapy to help people with disabilities, poor physical and mental health and those who are isolated and vulnerable. From seeing the interaction between Thrive's horticultural therapists and the people attending its programmes, it's clear that something powerfully restorative is happening here; something that's helping people overcome physical and emotional challenges and giving them confidence and purpose.
There's increasing recognition that spending time in nature improves our wellbeing, and with the rise in people with mental health needs, Thrive's therapeutic gardening programmes have so much to offer. Please make a donation today to help more people experience the many health benefits of therapeutic gardening.
Carly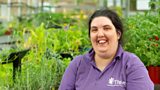 Carly has been coming to Thrive for 10 years and much has changed for her in that time. When she arrived from college, she had significant mental health and anger issues but today she is much calmer and contented: "The garden and the people I work with make me feel happy," she says.
Carly enjoys the variety of gardening tasks she can do at Thrive, such as mowing, turning the compost and growing veg. The physicality of the work has made her fitter, plus she has learnt new skills and gardening know-how which she puts into practice by looking after her own plot at Thrive's Reading centre.
Thrive Horticultural Therapists who work with Carly have noticed how her self-confidence has grown, and that she shows empathy and understanding for other client gardeners' needs. She is also an articulate advocate of the therapeutic benefits of gardening and relishes her public role as an ambassador of Thrive, which includes writing a blog and media appearances.
Imogen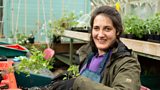 Being in the fresh air and working with others at Thrive London is a highlight of Imogen's week.
Cerebral palsy and epilepsy don't stop the 32-year-old from enjoying the benefits of therapeutic gardening in Battersea Park, where she has been attending Thrive's programme for three years. Jobs such as planting seeds and potting on plants have helped strengthen her hands and grip: "It's physio but it doesn't feel like it," says Imogen. "It's helped my physical ability a lot."
After years of feeling lonely growing up, Imogen now relishes the social side of coming to Thrive: "I like the people I work alongside very much, I feel very much part of the team," says Imogen, who attends two days a week.
"I don't like being away from Thrive and Battersea Park because I enjoy it so much. Coming here gives me a sense of independence, structure and a great deal of pleasure."
Nicholas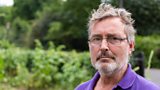 Nicholas had enjoyed a varied career as a model and a businessman when his life was turned upside down by a stroke at the age of 56. It affected the use of one side of his body and left him socially isolated. Depression had always been a problem and the stroke affected his confidence.
Nicholas attended Thrive's Life After Stroke programme in Battersea Park in late 2017 and over 12 weeks undertook therapeutic gardening to help his rehabilitation through tasks aimed at improving fine motor skills and dexterity, while strengthening limbs. The social side of coming to the Thrive programme proved invaluable for Nicholas, who found the supportive and encouraging atmosphere a real help in providing a sense of community and also for helping him understand the progress of his physical and mental recovery.

After the course, Nicholas decided to become a Thrive volunteer. Twice a week, he now oversees the charity's Battersea Park kiosk selling plants to visitors.
Credits
| Role | Contributor |
| --- | --- |
| Presenter | Anneka Rice |
| Series Producer | Hardeep Giani |
| Director | Charlotte Denton |
| Executive Producer | Sandy Smith |