Main content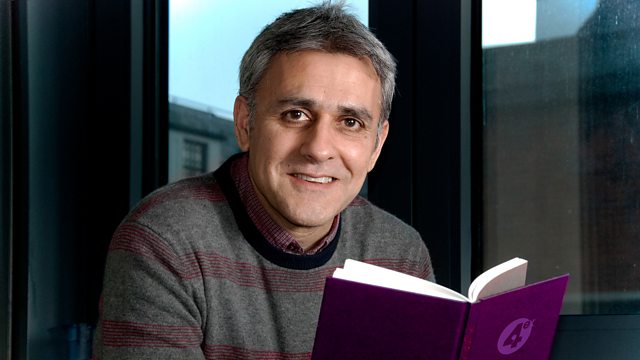 Derek Jarman and Thom Gunn
Made for 4 Extra. Daljit Nagra selects More than a Desert with Kate Tempest plus Three Score and Ten – Thom Gunn.
Poet Daljit Nagra revisits the BBC's radio poetry archive selecting Between the Ears – More than a Desert with Kate Tempest honouring iconic film maker and artist Derek Jarman at Dungeness plus Three Score and Ten featuring English poet Thom Gunn reading from his Forward prize winning collection.
Between the Ears - More than a Desert
More than twenty five years after the death of the iconic filmmaker Derek Jarman, the poet Kate Tempest - only a child when Jarman died - created a new radio poem on the Kent beach where he lived.
Crunching across the shingle of Britain's only desert, poet and playwright Kate Tempest's words are buffeted by the relentless wind of Dungeness - home to two lighthouses, two nuclear power stations, abundant wildlife, and to Prospect Cottage.
Here iconic British filmmaker Derek Jarman spent the last years of his life building his garden, writing diaries, inscribing the words of John Donne on the wall of his cottage. Here the wind whips across the flat, barren shingle, around the fisherman's cottages, out to the open sea where rolling waves meet a vast sky.
Recorded entirely on location in Dungeness, at Jarman's desk and out in the elements, Kate Tempest weaves the words and thoughts of local families and fishermen with rich soundscapes, both natural and man-made. Amidst the quietest sounds of the sanctuary of Prospect Cottage, to the roaring innards of the power station, Tempest crafts vivid new verse, at once intimate and elemental, mapping Dungeness anew.
Features music recorded on the beach by musician Alexander Tucker, and Keith Collins reading from Derek Jarman's "Modern Nature". Includes field recordings from the RSPB nature reserve and inside Dungeness B Nuclear Power Station.
Producer, Peter Meanwell
An Open Audio production for BBC Radio 3 in 2014.
Three Score and Ten - Thom Gunn
Ian McMillan introduces Thom Gunn who reads from his anthology The Man with Night Sweats on the untimely death of friends from the horror of Aids.
Producer: Sharon Sephton;
Research by Caitlin Crawford.
First broadcast on BBC Radio 3 in 2016 with archive readings from 1993.