Main content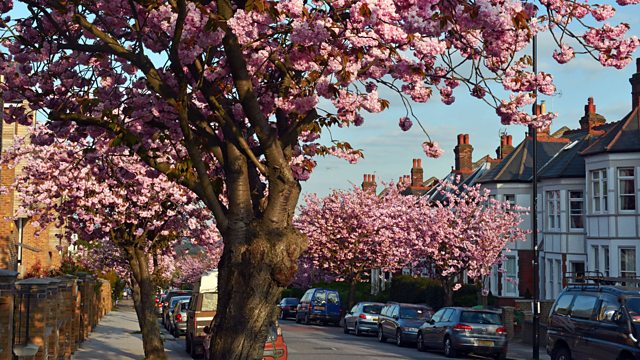 Nature and the City
Poetry and prose on the lives and fortunes of plants, animals and humans from the changing metropolis. With poems by Phillip Larkin, John Keats and Rainer Maria Rilke.
Poets and composers have long sung the virtues of the green spaces and the wildlife encountered in our urban centres. Ottorino Respighi celebrates the birds and pine trees of Rome, and Rufus Wainwright sings through all weathers and the wild flowers of Berlin's Tiergarten park. Matthew Arnold, in Kensington Gardens, marvels at the 'endless, active life' he finds all about him at his feet and in the air.
Human cities might, though, be viewed as islands too, pushing out and paving over the natural world, towering evidence of the anthropocentric. For the German poet Rainer Maria Rilke, 'the big cities are not true; they betray the day, the night, animals and children' while Edna St Vincent Millay mourns the loss of the 'thin and sweet' music of dancing tree-leaves, drowned out in the 'shrieking city air' of horns and alarms and industry evoked in the music of Steve Reich. And as some writers begin to dream of green hills and escaping the din of the metropolis, the forces of nature are already gathering inside the city walls: rabbits, herds of deer, bears and the sea begin to re-wild and reclaim the human spaces, reminding us that, for all our skyscrapers, we are not separate from but of nature.
Produced by Phil Smith
A Reduced Listening Production for BBC Radio 3
Music Played
Timings (where shown) are from the start of the programme in hours and minutes
Matthew Arnold

Lines Written in Kensington Gardens, read by Osi Okerafor.

Meg Kearney

Nature Poetry (for William Matthews), Read by Veronica Quilligan

John Keats

From a Letter, March 1819, read by Veronica Quilligan.

John Keats

To One Who Has Been Long in City Pent, read by Osi Okerafor.

John Drinkwater

Blackbird, read by Veronica Quilligan.

Philip Larkin

Here, read by the author (BBC 1964)

Chinua Achebe

Benin Road, read by Osi Okerafor.

Climate Protests

London, 2019

Henry Wadsworth Longfellow

The City And The Sea, read by Veronica Quilligan.

W.H. Auden

The Capital, read by Osi Okerafor.

John Clare

The Ants, read by Veronica Quilligan.

Rainer Maria Rilke [trns Anita Barrows & Joanna Macy]

From The Book of Poverty and Death, read by Veronica Quilligan.

Federico Garcia Lorca [trns Greg Simon / Steven F White]

New York (Office and Denunciation), read by Osi Okerafor.

A Voice In A Tree

Berlin, 2016

Charles Dickens

The Life and Adventures of Nicholas Nickleby, read by Osi Okerafor.

Alfred Lord Tennyson

Flower in the crannied wall, read by Veronica Quilligan.

Timothy Morton

From Being Ecological, read by Osi Okerafor.

Edna St. Vincent Millay

City Trees, read by Veronica Quilligan.

Sarah Kirsch

Nature reserve (trns Anne Stokes), read by Veronica Quilligan.

Joanne Key

The Day the Deer Came, read by Osi Okerafor.

Tony Hoagland

Wild, read by Veronica Quilligan

Ben Okri

from The Age of Magic, read by Osi Okerafor