Main content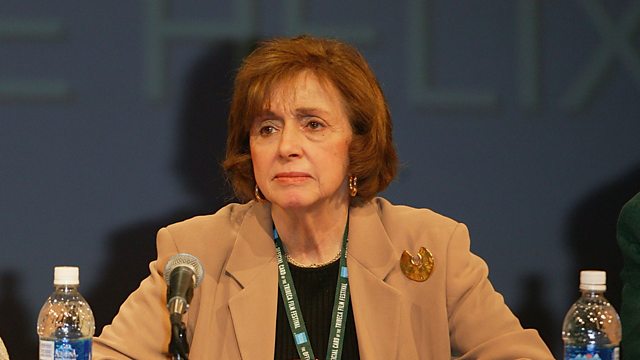 Brenda Maddox, Ivan Cooper, Min Hogg, John Gunther Dean, Dave Bartholomew
Matthew Bannister on politician Ivan Cooper, editor Min Hogg, diplomat John Gunther Dean, writer Brenda Maddox and musician Dave Bartholomew.
Pictured: Brenda Maddox
Matthew Bannister on
Ivan Cooper, the human rights campaigner and politician from Northern Ireland who played a key role in the protests on Bloody Sunday.
Min Hogg, the colourful founding editor of World of Interiors magazine. Her friend Nicky Haslam pays tribute.
John Gunther Dean, the last US diplomat to be evacuated from Cambodia as war loomed.
Brenda Maddox, author of many books including The Half Parent and a biography of James Joyce's wife Nora Barnacle.
Dave Bartholomew, the New Orleans musician who wrote four thousand songs including many of Fats Domino's greatest hits.
Interviewed guest: Dr Simon Prince
Interviewed guest: Enda McClafferty
Interviewed guest: Nicky Haslam
Interviewed guest: Bronwen Maddox
Interviewed guest: Fiammetta Rocco
Interviewed guest: Garth Cartwright
Producer: Neil George
Archive clips from: Against the Grain, Radio 4 22/02/2011; News Special: Bloody Sunday, BBC Northern Ireland 30/01/1972; Bloody Sunday, directed by Paul Greengrass, Granada Television/Irish Film Board/Portman Entertainment Group/Bórd Scannán na hÉireann/Hell's Kitchen Films 2002; Arena, BBC Two 21/02/1984; Veteran US diplomat John Gunther Dean dies age 93, AP Archive, 16/06/2019; Cambodia War US Embassy Evacuation AP 12/04/1975; Vietnam helicopter pilots describe the war from the cockpit, Military Times 18/04/2018; John Gunther Dean, former U.S. Ambassador to Cambodia, 1974-75, Documentation Center of Cambodia 12 Jun 2019; Happily Ever After? Radio 4 29/11/1983; Nora, directed by Pat Murphy, Natural Nylon Entertainment/Road Movies Filmproduktion/Volta Films/GAM 2000; Night Waves, Radio 3 16/06/2009; Margaret, directed by James Kent, Great Meadows Productions, BBC Two 26/02/2009; Fats Domino's Longtime Collaborator, American Masters PBS 24/02/2016; Dancing In The Street: A Rock And Roll History: Whole Lotta Shakin', BBC Two 15/06/1996.
Ivan Cooper
Born 5 January 1944; died 26 June 2019, aged 75.
Last Word spoke to Dr Simon Prince, Senior Lecturer at Canterbury Christ Church University and specialist in the Northern Irish Troubles, and Enda McClafferty, BBC Northern Ireland Political Correspondent.   
Min Hogg
Born 28 September 1938; died 25 June 2019, aged 80.
Last Word spoke to her friend, interior designer Nicky Haslam.  
John Gunther Dean
Born 24 February 1926; died 6 June 2019, aged 93.
Brenda Maddox
Born 24 February 1932; died 16 June 2019, aged 87.
Last Word spoke to her daughter Bronwen Maddox, and Fiammetta Rocco, Culture Editor at The Economist.
Dave Bartholomew
Born 24 December 1918; died 23 June 2019, aged 100.
Last Word spoke to music journalist Garth Cartwright.