Main content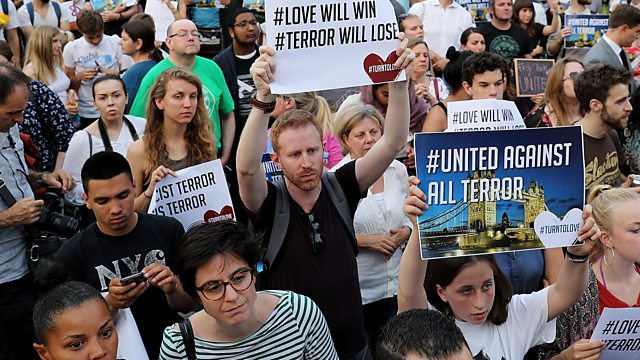 Understanding the risks of terrorism
With unprecedented access to the work of MI5, Dominic Casciani asks how the security services, business and the public should perceive and respond to the threat of terrorism.
How do the authorities, business and the public perceive and respond to the risk of violent terrorism?
With unprecedented access to the work of an active MI5 officer, home affairs correspondent Dominic Casciani discovers the depth of the challenge facing the security services. Just how do MI5 operatives go about filtering hundreds of weekly tip-offs into a few key leads? In a world of online radicalisation and increasing hate crime, how can they prioritise those that pose a real and immediate threat to the public, and avoid wasting resources on red herrings and keyboard warriors?
He also hears from:
- Paul Martin, who led security preparations for the London 2012 Olympics
- Nicola Benyahia, whose son was radicalised and killed fighting in Iraq
- Dr Julia Pearce, expert on communication and terrorism at King's College London
- Brigadier Ed Butler, Head of Risk Analysis at Pool Re
- Rizwaan Sabir, expert on counter-terrorism and political Islam at Liverpool John Moores University
Would we be safer if we knew more about the threats that face us, or should we be kept in the dark?
Presented by Dominic Casciani
Produced by Beth Sagar-Fenton
Last on

David Anderson examines the government's controversial counter-terrorism strategy Prevent.

The British Muslims who joined Jihad in Afghanistan, Bosnia and Kashmir in the 80s and 90s

An investigation into Jim Dowson, the front man for Knights Templar International.
Broadcasts