Main content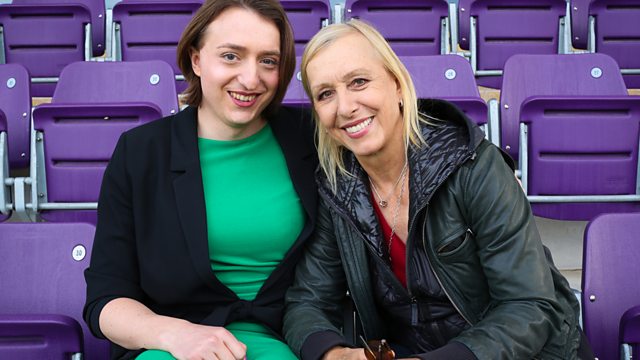 The Trans Women Athlete Dispute with Martina Navratilova
Martina Navratilova's tweet about trans women athletes sparked a heated argument. In this documentary, she opens up the debate to answer some of her own questions.
When Martina Navratilova called for an open debate about transgender women athletes competing in women's sports earlier this year, it sparked a heated and passionate argument, creating global news headlines.
In this one-off documentary special for BBC One, Martina sets out to open up the debate and answer some of her own questions by meeting a range of athletes, trans women and scientists.
Martina meets Naomi, a trans woman who is at the beginning of her transition and wants to be able to continue to play football. She talks to Martina about the difficulties she has experienced and how important sport is to her. Martina is very supportive of the inclusion of trans women in amateur sports, but she is concerned about the possible physical advantages that trans women may have over female athletes in competitions. Graphic sequences with a male and female athlete explain the science behind the physical differences between them as well as the strength and speed advantages that male athletes have over females.
Martina then goes to Loughborough University to talk to the sports scientists there who are about to embark on unprecedented research into the performance of trans women athletes before, during and after transition. She helps out with another piece of research which questions the role of testosterone in performance, even bench-pressing some weights, and she has her own testosterone level measured. Martina is also challenged on her views by sports inclusion legal expert Seema Patel, sociologist Ellis Cashmore and Trans Media Watch founder Helen Belcher.
Martina meets Joanna Harper, a Canadian trans woman who was a top-ranking amateur distance runner before she transitioned. Joanna talks about how she felt her speed and strength reduced once she started her hormone treatment. The documentary also includes an interview with Olympic swimmer Sharron Davies.