Main content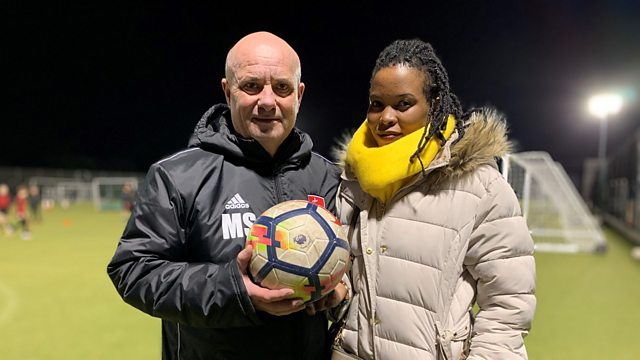 Following the story of Doaa, an Egyptian citizen who, upon arrival in Manchester with her husband, discovered she had the wrong visa and was detained.
Last year nearly 700,000 people from outside the EU applied to live in the UK – but not all will be successful. With our immigration system fast becoming a legal maze, this series follows the stories of those desperately trying to stay in the UK and the lawyers tasked with helping them. Every decision the Home Office makes will have life-changing consequences and in this episode relationships are put to the test as love is put under the microscope.
Amongst those hoping to make Britain their home is Dooa – an Egyptian citizen who who is now caught up in the UK immigration system. For the last 17 years Doaa has been married to hotel worker Martin, but when she arrived with him at Manchester airport to start a new life in Britain, Doaa discovered she had the wrong visa and was detained. Doaa is now on immigration bail, hoping that her lawyer Gary McIndoe can resolve the situation
32-year-old Sylvia from Uganda has arrived in the UK for the first time to marry 58-year-old Marc Scrimaglia. The couple met seven years ago on an online football forum. Their relationship blossomed online and they decided to meet face to face after three years. After Marc popped the question in Uganda, Sylvia has arrived on a fiancee visa but is under pressure to get married and and secure a second visa before her current one expires to be able to remain in the UK. Immigration advisor Jules Motcho tries to smooth their path
Last year around 42,000 spouses from outside the EU applied for UK citizenship, one fifth were turned down. To get their visa Mark and Sylvia will be interviewed about how well they know each other and will have to prove that their relationship is genuine – otherwise Sylvia could be sent back to Uganda.
Elsewhere, Nigerian citizen Onyi, and husband Craig live in Manchester. After ten years in the UK, Onyi still doesn't have permanent status in Britain, and hopes that this application will be her last. To obtain the visa she must either prove that she is earning over £18,600 or show that she has lived in the country legally for the last ten years. The problem for their lawyer Gary McIndoe is that Onyi and Craig have given up their steady incomes to pursue a new business as social media influencers, making it difficult to prove their earnings exceed the home office income threshold.
As all three couples struggle with the complex immigration rules and procedures, it is up to their lawyers to convince the home office that they should get to stay in the UK.
More episodes
Next
You are at the last episode