Main content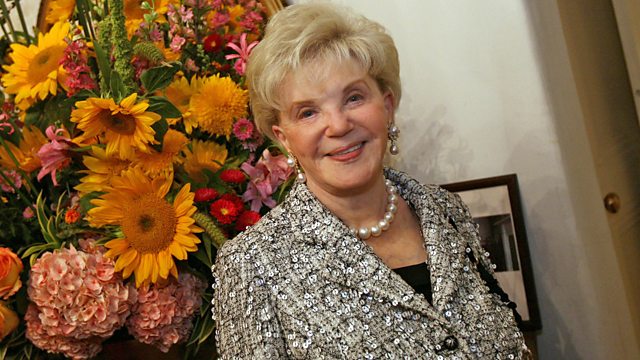 Dr Henry Lynch, Judith Krantz, Lord Patel of Blackburn, Anthony Hedges
Matthew Bannister on medical researcher Dr Henry Lynch, author Judith Krantz, businessman Lord Patel and composer Anthony Hedges.
Pictured: Judith Krantz
Matthew Bannister on
Dr. Henry Lynch whose painstaking medical research revealed the causes of hereditary cancers.
Judith Krantz, the American author who made a huge commercial success from her sex and shopping novels.
Lord Patel, the Indian-born businessman who became a key figure in community relations in his adopted town of Blackburn.
Anthony Hedges, the British composer whose prolific output ranged from light music to symphonies and choral works.
Interviewed guest: Professor Patrick M Lynch
Interviewed guest: Penny Warren
Interviewed guest: Sarah Hughes
Interviewed guest: Jack Straw
Interviewed guest: Julia Langdon
Interviewed guest: Paul Conway
Interviewed guest: Colin Bayliss
Producer: Neil George
Archive clips from: Horizon, BBC Two 04/11/2000; Genetic Mutations as Causes of Cancer, Ecancer/Vimeo; Remembering Dr Henry Lynch, KETV NewsWatch 7 03/06/2019; Princess Daisy, directed by Waris Hussein, National Broadcasting Company/ Steve Krantz Productions 1983; Scruples, directed by Alan J. Levi, Lou Step Productions/Warner Bros. Television 1980; Judith Krantz, BBC Sound Archive 01/05/1979.
Dr Henry Lynch
Born 4 January 1928; died 2 June 2019, aged 91.
Last Word spoke to his son Professor Patrick M Lynch and writer Penny Warren.
Judith Krantz
Born 9 January 1928; died 22 June 2019, aged 91.
Last Word spoke to journalist Sarah Hughes.  
Lord Patel of Blackburn
Born 7 June 1940; died 29 May 2019, aged 78.
Last Word spoke to politician Jack Straw and journalist Julia Langdon.
Anthony Hedges
Born 5 March 1931; died 19 June 2019, aged 88.
Last Word spoke to composer and music expert Paul Conway, and writer Colin Bayliss.