Main content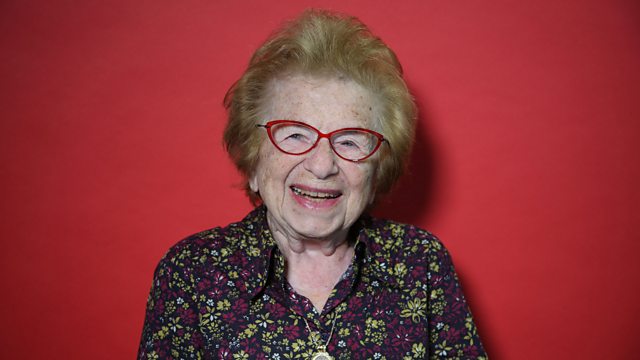 Weekend Woman's Hour: Sex therapist Dr Ruth, Painful gynaecological procedures, Poetry for the summer solstice
Dr Ruth discusses porn, vibrators and Viagra, Elizabeth-Jane Burnett performs Preface for the Summer Solstice, and women and painful gynaecological procedures
The sex therapist Dr Ruth will be discussing porn, vibrators, Vigara and the importance of communication when it comes to great sex.
We celebrate the summer solstice with the poet Elizabeth-Jane Burnett and her poem Preface.
Why are women asked to undergo painful medical procedures without adequate pain relief? We hear one woman's experience and from Paula Briggs a consultant in reproductive health and from Katherine Tylko an anti-hysteroscopy campaigner.
UNICEF statistics reveal one woman and six new borns in Yeman die every two hours from pregnancy and childbirth complications which the organisation say is as a direct result of the conflict. We hear from Malak Hasan an advocacy and policy worker for UNICEF and from Yemeni born Mai Noman, a Digital Content Editor for the BBC's Arabic Service.
How tricky is it to introduce a new partner to family and friends after the death of a loved one? We hear from Barbara Want whose husband died in 2012, from Colette Jelfs whose husband died in 2006 and from the relationship therapist and author Cate Campbell.
More than 2000 people have died after being infected with HIV and Hepatitis C through blood treatment. The victims were mostly infected 25 years ago in what has been called the worst treatment disaster in the history of the NHS. Michelle Tolley tells us how she became infected after the birth of her first child in 1987and why she's taking part in the Infected Blood Inquiry.
The Bristol based cook and food writer Elly Curshen known on social media as Elly Pear Cooks The Perfect Spiced paneer, spinach and grains.
Presented by Jenni Murray
Producer: Rabeka Nurmahomed
Editor: Jane Thurlow