Main content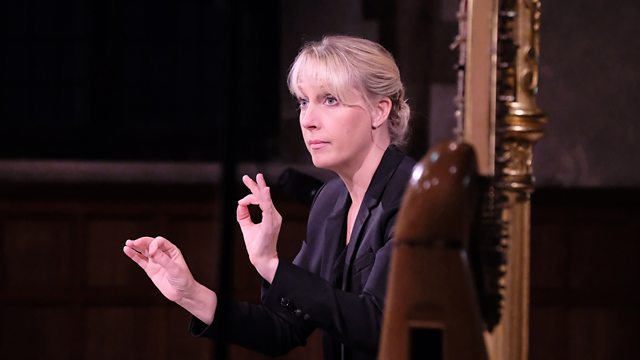 BBC Singers and BBC Symphony Orchestra
Choral music by Tchaikovsky and Stravinsky from the BBC singers plus Tchaikovsky's Violin Concerto and Sibelius's thrilling Lemminkainen Suite from the BBC Symphony Orchestra and Sakari Oramo.
Tchaikovsky and Stravinsky feature large this afternoon with our opening concert from the BBC Singers recorded at St Giles, Cripplegate. Plus, the former concertmaster of the Berlin Philharmonic Guy Braunstein joins the BBC Symphony Orchestra in Tchaikovsky's Violin Concerto. The orchestra's Chief Conductor Sakari Oramo, celebrated for his interpretations of Sibelius, conducts the Lemminkäinen Suite.
We showcase two young composers from the International Rostrum of Composers, both writing for orchestra: Estonian Maria Kõrvits, whose piece 'falling up into the bowl of sky' takes inspiration from a poem by the Persian poet and Sufi mystic Rūmī, and Swede Britta Byström. Her 'Notes from the City of the Sun' is based on the Chinese writer Bei Dao's suite of poems of the same name and performed by the soprano Malin Byström to whom it is dedicated.
Presented by Penny Gore.
2pm
Tchaikovsky: Cherubic Hymn - Let us who mystically represent the Cherubim (Nine Sacred Pieces)
Stravinsky: Anthem 'The dove descending breaks the air'
Tchaikovsky: Hail, gladdening light (Vesper Service Op. 52)
Gesualdo: Three motets: O vos omnes; Ave, Regina coelorum; Hei mihi, Domine (Sacrarum cantionum, Book 1)
Stravinsky: Tres sacrae cantiones (Carlo Gesualdo da Venosa): Da pacem Domine; Assumpta est Maria; Illumina nos
Tchaikovsky: Blessed are they (Nine Sacred Pieces)
Stravinsky: The Lord's Prayer [Otche nash]
Tchaikovsky: The Lord's prayer [Otche nash] (Liturgy of St John Chrysostom)
Stravinsky: Simvol verï (Russian Credo)
Tchaikovsky: At Bedtime
Stravinsky: Bogoroditse Dyevo (Ave Maria)
Tchaikovsky: A Legend (16 Songs for Children, Op. 54)
BBC Singers
Sofi Jeannin (conductor)
c.2.50pm
Maria Kõrvits: langedes ülespoole, taeva kaarjasse kaussi (falling up into the bowl of sky)
Estonian National Symphony Orchestra
Anu Tali (conductor)
c.3.05pm
Tchaikovsky: Violin Concerto Op.35
Guy Braunstein (violin)
BBCSO
Kirill Karabits (conductor)
c.3.40pm
Britta Byström: Notes from the City of the Sun
Malin Byström (soprano)
Malmö Symphony Orchestra
Eun Sun Kim (conductor)
c.4.05pm
Sibelius: Lemminkäinen Suite
BBCSO
Sakari Oramo (conductor)